A few years ago, we had an absolute blast filming a television advert featuring a bunch of furry friends travelling along in some quality cars. To make sure we did things right, we closely monitored advice from the RSPCA that helped us ensure our canine friends were safe and protected while still looking glamorous.
We learned a lot about pet safety that day. So, to pass on our knowledge, we've created this guide on travelling with your dog. We'll cover the laws around travelling with pets, and include some top tips to help your furry friends feel safe and protected.
Dog travel laws explained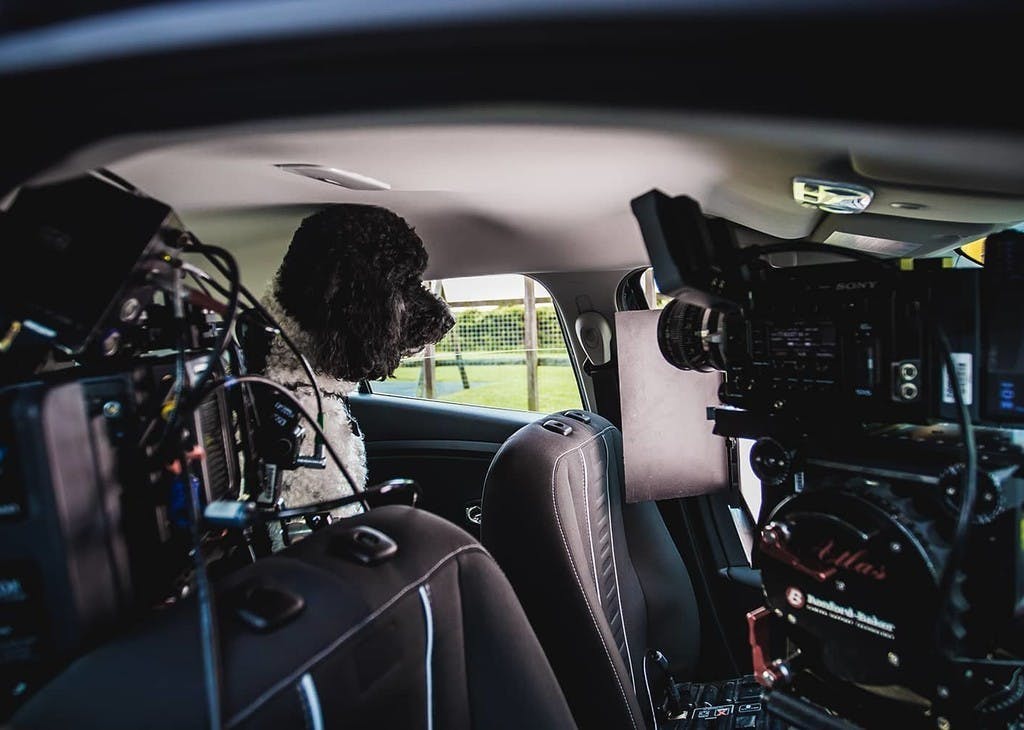 In the Highway Code, there is only one rule that explicitly interacts with dog travel. Under rule 57, the Highway Code states that pets must be suitably restrained to prevent distraction or injury. Failure to comply with this law may lead to prosecution for unsafe driving, resulting in a fine and hefty points penalty.
Can a passenger hold a dog in the car?
Some may think that one of the best restraints you can have is another person physically holding your dog back in a car. While this is a fair observation, it isn't strictly permitted. Dogs must not be allowed to have free roam in a car, so simply holding them on a passenger's lap would introduce potential for them to break free of your hold and walk around.
Is it legal to leave your dog in the car?
There are currently no laws that prohibit dogs being left in cars. However, there is more of a moralistic question associated. Leaving dogs in cars is mostly frowned upon, as the enclosed environment leaves little room for air circulation, or much room at all for that matter.
Even in a large 4x4 with wide seats, dogs can find small spaces like cars incredibly uncomfortable, especially with the various distractions and loud noises surrounding them.
This factor is only exasperated further in summer, when the temperature rises.
How to travel with a dog in a car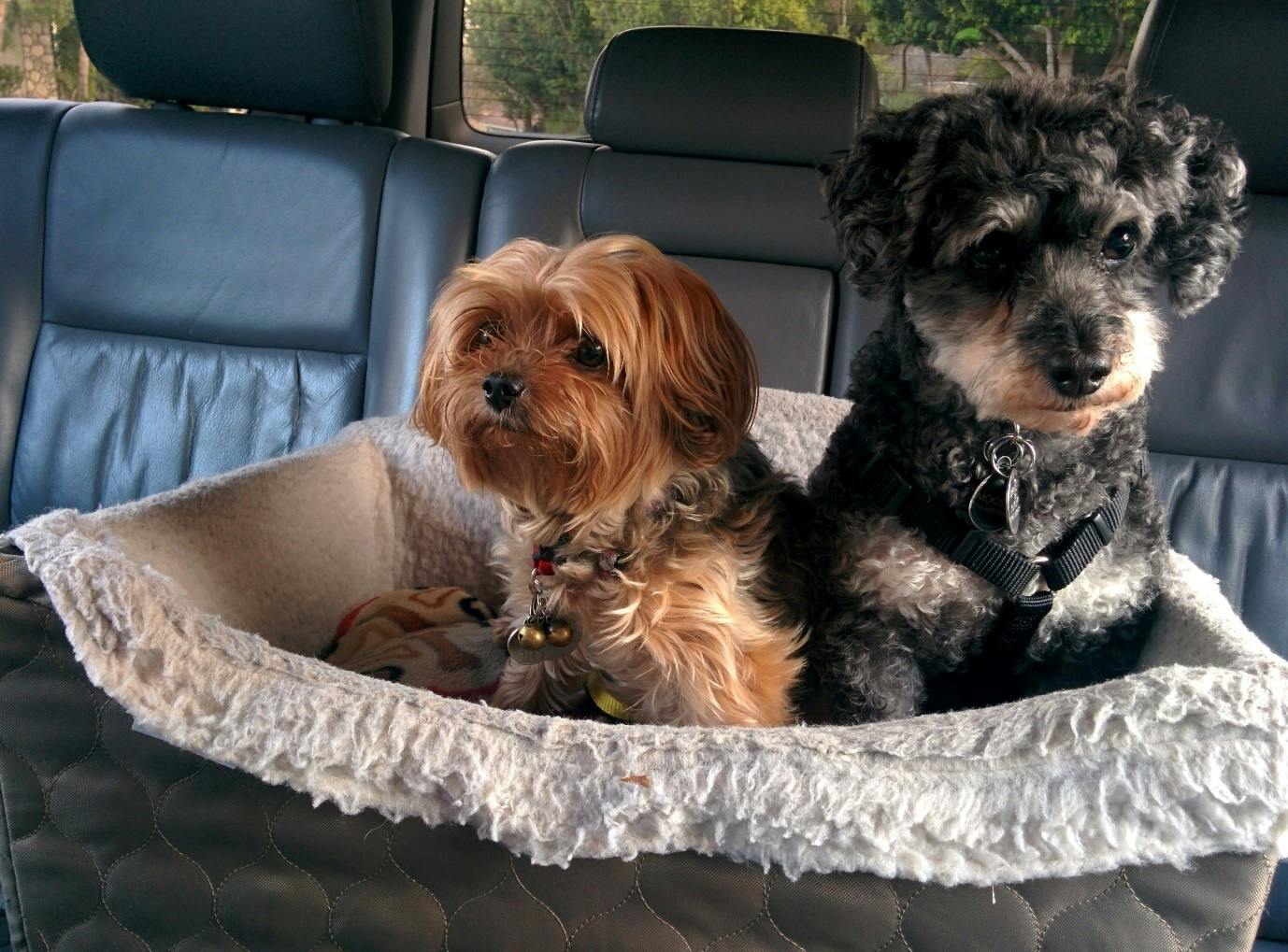 Here are our top tips for travelling safely in the car with your canine, pulled together with advice from the RSPCA. For further information about travelling with pets, you can download a factsheet from the RSPCA here.
Start small
Take your dog on small car journeys from a young age to assess how they travel. Use positivity and rewards so they know that getting in the car isn't a scary experience. Keep journeys to around 5 or 10 minutes and gradually build upwards until you get to your desired length.
Stop when needed
If your dog is showing any signs of anxiety while travelling – especially on longer journeys – it is important not to aggravate them further. If it's safe to stop, take them for a short walk and reward them when they get back in the car.
Give plenty of time
Leave a couple of hours from their last feed before taking your dog in the car. Always take regular rest and toilet breaks on a long journey – for both you and your dog.
Use correct restraints
Your dog should be suitably restrained so they are safe during an emergency stop and are unable to distract the driver. Travelling crates and containers are perfect for larger cars and approved harnesses are available from the RSPCA.
Keep it cool
Don't let your dog get too hot. When travelling, make sure water is readily available and that there is plenty of ventilation. Once you reach your destination, your furry friend is coming with you, even if you're just popping into a shop for supplies.
Dogs – any pets in fact – can suffer terribly and even die from heat exposure when the heat rises in a car. Read this article for more information.
Who let the dogs out?
If there's one thing we love more than our dogs, it's taking them for little trips to discover new places. We had a great time filming our television advert, and hope you can take some words of warning from this article.
You can watch Fern, Pasha, Scrumpy, Alfie, Arlo, Teddy and Oscar in action in our final cut below:
There was plenty going on behind the scenes to ensure the dogs' safety throughout. We worked closely with Rockwood Animals to make sure the dogs were comfortable both in and out of the cars during filming.
Martin Winfield from Rockwood was with us that day, and has been training and handling dogs for film and TV for over 25 years. You won't spot him in the ad itself as he spent his time wearing a harness outside the car, keeping the dogs happy and safe while they were travelling inside.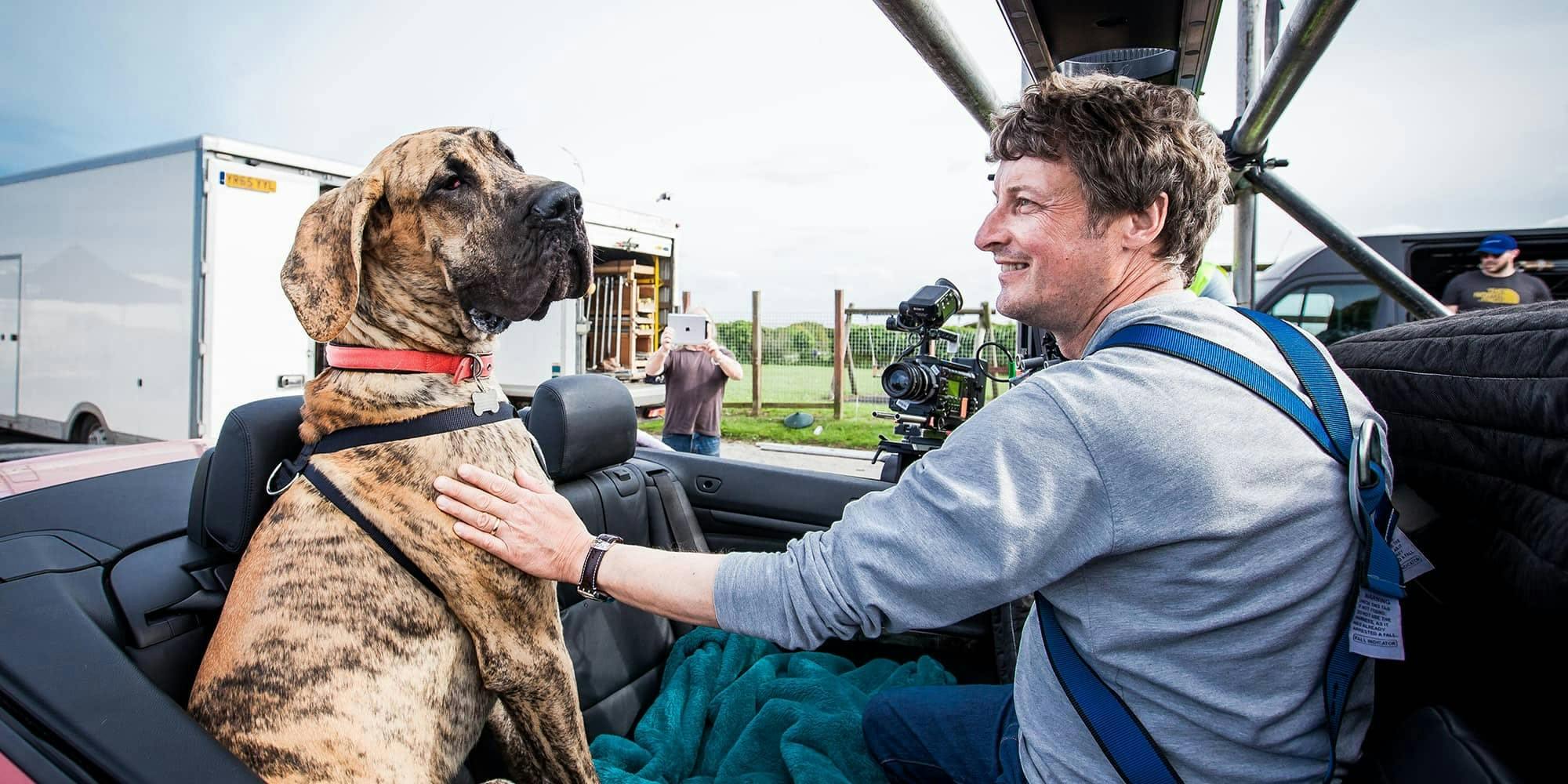 "For filming, all the cars were secured onto specially adapted low loader trucks, so while the dogs were visible in shot in the car, what you couldn't see is that I was also harnessed onto the low loader myself, ready and able to attend to the dogs should they need anything." – Martin Winfield, Rockwood Animals
Find dog-friendly cars at findandfundmycar.com
If you're looking for a pet-friendly motor, we have plenty of options available at findandfundmycar.com.
Whether you're looking for a larger car to transport multiple dogs, or a small run around for just the two of you, there's used cars of all shapes and sizes to get the job done. Have a browse today and travel safely.