One in twelve new cars purchased in the UK is now electric, and as the world of cars evolves, more and more dealerships are looking to stock up on the best hybrid cars and fully-electric vehicles available.
What is a hybrid car?
Hybrid cars are vehicles that use more than one form of propulsion, combining a petrol or diesel engine with an electric motor. Advantages of a hybrid include less fuel consumption and less CO2 production, compared to average petrol or diesel-engine vehicles.
Hybrid cars instead use a conservative engine, along with an electric motor and battery – making up parallel hybrid cars, plug-in hybrids and range extenders. But, which is best?
To make it simple for you, we've highlighted some of the best used hybrid cars on the market at the moment.
Five of the best second-hand hybrid cars
Hybrid Ford Mondeo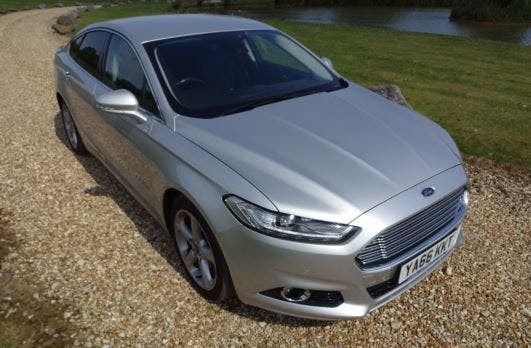 Source: J D Cleve Limited
This under-rated hybrid comes with a specially-developed 2.0 litre petrol engine, combined with two electric motors – one that drives the wheels of the vehicle, and another that supplies a recovering charge, along with a 1.4kWh lithium-ion battery.
Its top speed in EV mode is a modest 85mph and its design offers an Aston Martin-esque grille, with a large headlight offering. Annoyingly, the lithium-ion batteries take up around 100-litres of its boot space, meaning there's less room on offer compared to a normal Mondeo.
Priced at an average of £16,000, it's one of the cheaper hybrid estates on the market. Find your hybrid Ford Mondeo here.
Mitsubishi Outlander PHEV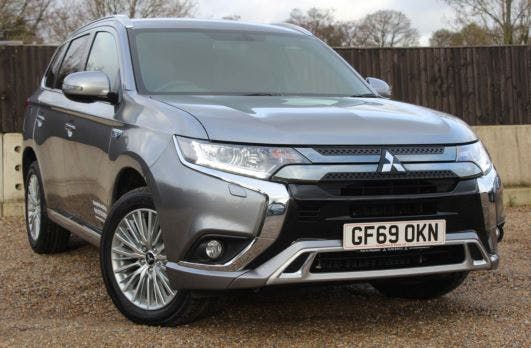 Source: Humphries and Parks Ltd
The plug-in hybrid Outlander has been a quietly successful SUV, whose main attributes consist of a large, spacious interior, with enough room for five adults.
It also offers a boot that's big enough to deal with pretty much anything you throw in it and has become a very popular option for adventurous families.  The five-star rating it has in Euro NCAP's crash tests doesn't harm this, either.
The charging time of a standard PHEV version is around eight hours, and it's perfect for those long "are we there yet!?" trips.
You can look to grab one of these 2.0 litre hybrids for a typical £30,000, or bag yourself a better deal with one of our Mitsubishi Outlander listings.
Volkswagen Golf GTE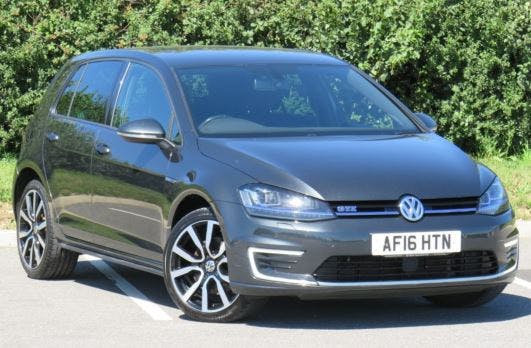 Source: Quins Specialist Cars
With the used Volkswagen Golf now one of the most popular cars on sale in the UK, its plug-in hybrid GTE brother takes its appeal and offering that one step further.
The Golf includes a number of pieces of tech as standard, including climate control, automatic lighting, LED headlights, cruise control, and parking sensors at the rear and front of the vehicle. It more or less comes set with the same amount of gear as the GT Golf, and doesn't cost the earth, either.
Second hand models with a moderate amount of miles on the clock cost less than half of its original value, priced at around £15,000. Find a good Volkswagen Golf deal in our dealer's listings.
Volvo V60 Twin Engine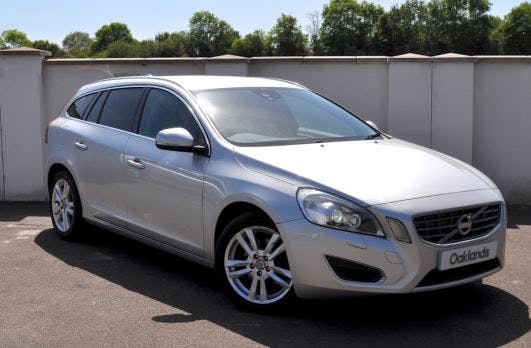 Source: Oaklands Automotive Ltd
When you think of estate vehicles, you probably think dogs, children, checkered trousers and corduroy. But that's exactly what the Volvo V60 looks to change with its plug-in hybrid features, diesel engine and value for money.
Giving you 430 litres of boot space and up to 31 miles of electric range, the V60 is cleanly designed, runs smoothly and is a more-than-decent hybrid choice.
With masses of space despite its hybrids features, it can be bought second hand for £15,000. Have a look at our Volvo V60 Twin Engine deals here.
Toyota Yaris Hybrid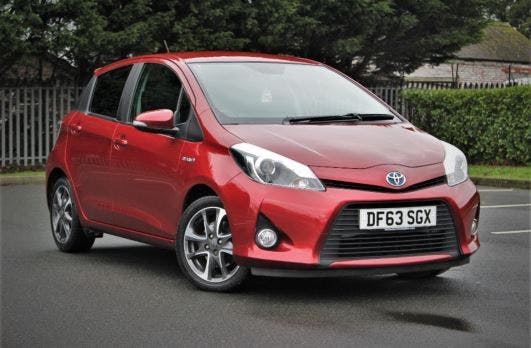 Source: Fairlee Services Station
If you're looking for a city car with low-running costs, this supermini is ideal, offering a lower tax fee compared to its rivals, too. Its automatic gearbox provides quiet and fuel-efficient driving around busy urban streets, gliding with ease, and when stuck in traffic, the Yaris doesn't suffer either.
Its driving ability ensures there's no intrusive stop-start system to get in the way of short traffic light windows, and despite weighing more than most rivals, the model still manages to roll around efficiently and brake well.
The used city car averages a price of £11,000, and can usually be found with a low mileage. Discover our dealer's Toyota Yaris Hybrid listings here.
Discover the best second-hand hybrid cars in the UK
Finding the right second-hand hybrid car for you can be tough, especially if you're purchasing one for the first time. With petrol or diesel cars, you've usually "been there and done that" at least once, so you have some idea of what to look for.
At findandfundmycar, we have a range of hybrid cars for 2020 and beyond. We also list cars with all the information you need, from dealers you can trust.
If you have any questions or concerns, our dealers will answer them promptly so you can buy with confidence.
Discover second-hand hybrid cars from findandfundmycar today.