Technology tends to go through cycles. Trends come and go, but one thing remains the same: we all want the very latest and greatest. Whether it's a brand-new smartphone, updated laptop or even a new car, technology has a major influence across the globe.
When it comes to cars, it's common for buyers to be driven towards certain models for differing reasons. A new driver may want something that is fuel-efficient and budget-friendly, while a seasoned car veteran would prefer something with a bit more character or nostalgic value. These aspects have become very well recognised by manufacturers, which has led to the creation of different classes of vehicles, each with distinct features.
However, one common desire across all types of buyers is technology. From Bluetooth stereos to built-in satellite navigation, advanced car technology remains a hotly requested feature among all of us.
Naturally, this demand has resulted in the cars of today becoming significantly more advanced than before. So, join us as we analyse the trends and figure out where our priorities lie when it comes to car technology.
How car technology desires have changed
By reviewing internal analytics data around site searches from 2018 to 2021, we have been able to decipher the features buyers are most interested in.
We first identified which features are being searched for the most, providing us with six queries to follow: sunroofs, Bluetooth, satellite navigation, parking sensors, reversing cameras, and electric motors.
We then reviewed the percentage differences year-on-year to show us how our interests have changed over time, as well as what other factors could be at play.
Electric vehicles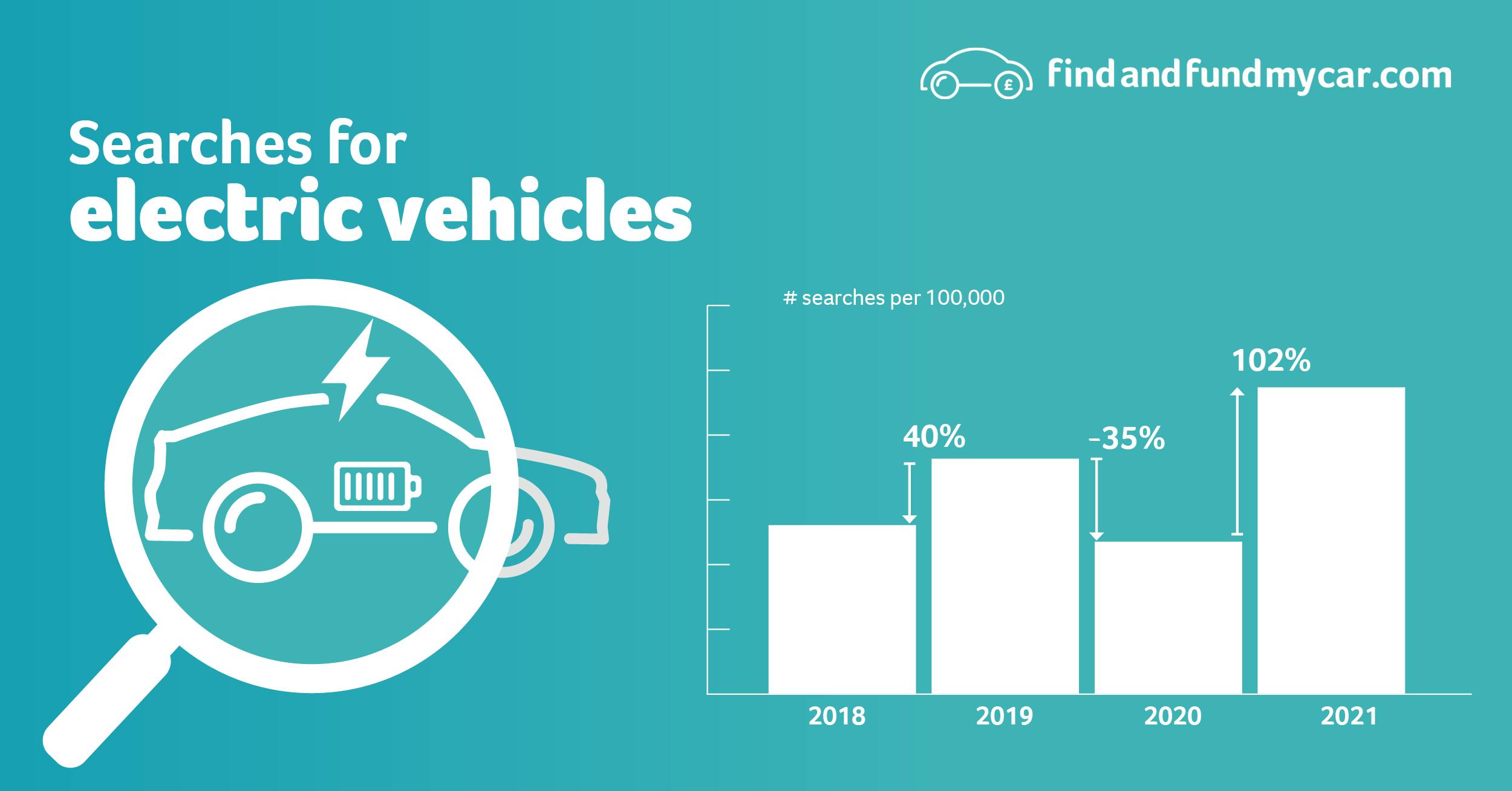 By far, the most hotly requested feature that buyers are interested in has been fully electric vehicles. The idea of electric vehicles is nothing new, with concept cars shown off in varying quality for many years. However, that hasn't prevented buyers from searching for these types of cars in spades.
Interested in electric cars? Then discover our five favourite electric cars available in the UK right now.
Across all the years that we looked at, searches around electric vehicles came out on top as the number one most in-demand feature for three out of four years, with a 102% increase of searches in the past year centred around the subject. This recent spike can largely be attributed to the nationwide fuel crisis of September 2021.
Built-in satellite navigation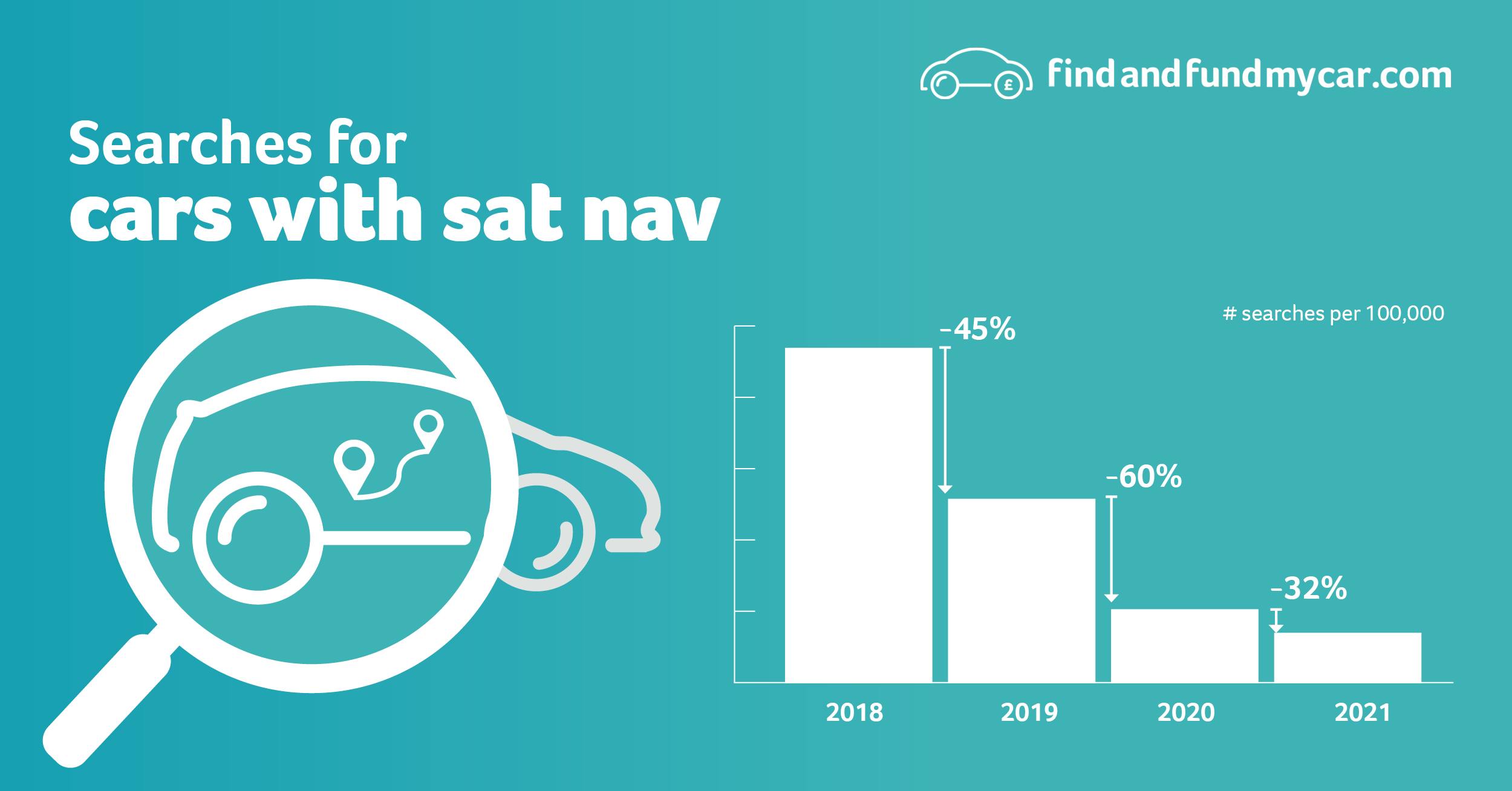 Thanks to a standout performance in 2018, satellite navigation is another highly desired feature in modern cars.
In years past, motorists have either had to rely on clunky world maps or the sub-par experience of mounting a portable sat nav to windscreens for the pleasure of knowing where to drive.
However, alongside the proliferation of touch screen infotainment systems, this has changed dramatically. Satellite navigation is now a common feature in cars both big and small, and it's no surprise why: in December 2017, the DVLA announced the introduction of a new element to the driving test that utilises sat navs.
This change can largely be attributed to the increased search volume, with newer drivers panicking to practice before the big test.
Despite overall search volume remaining high, it seems that the days of sunroofs are numbered as searches for sat navs deceased by 32% last year.
Sunroofs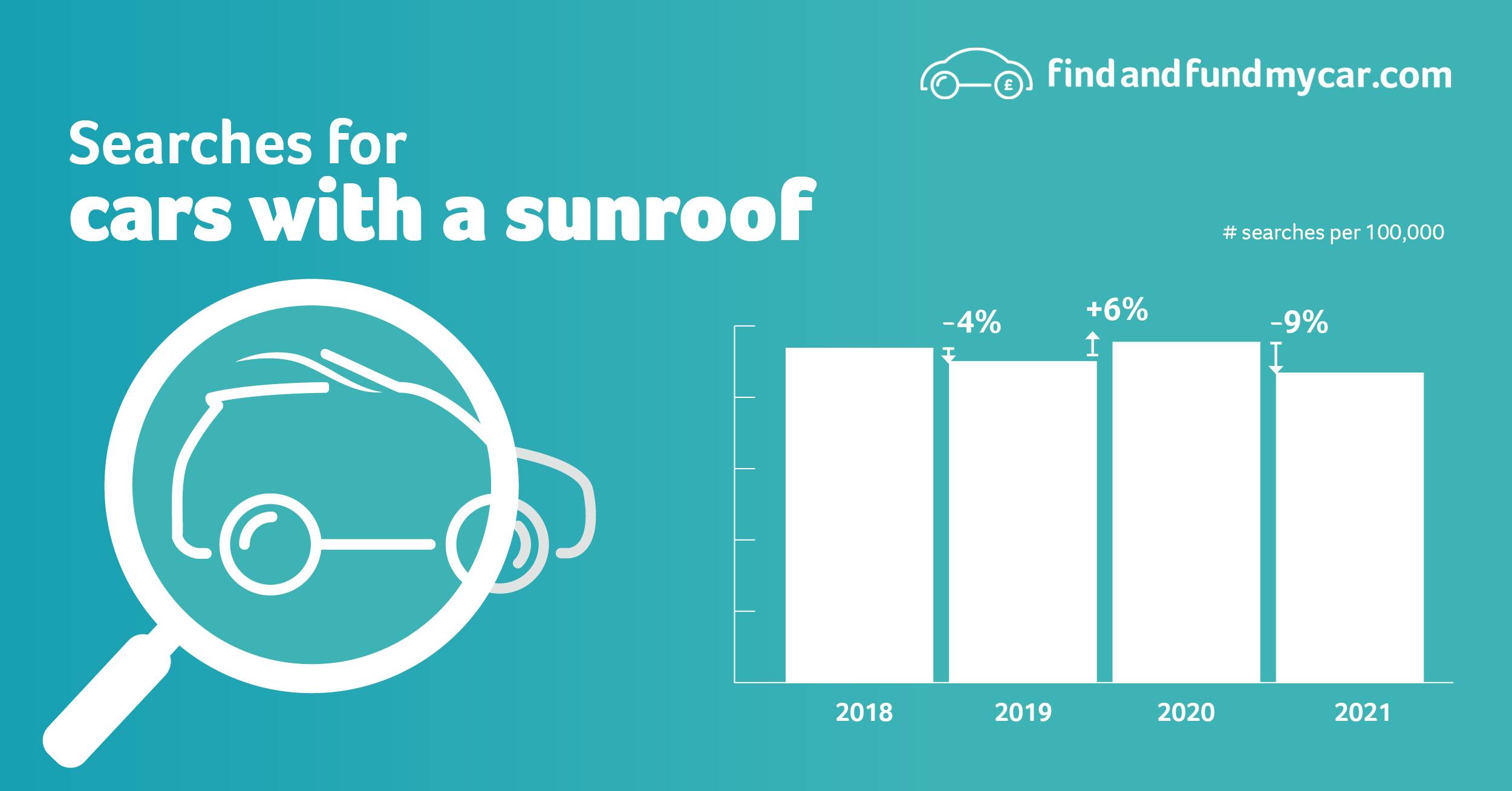 Nothing quite says luxury like a high-end SUV with plush leather seats, blacked-out windows and, of course, the all-important sunroof. Despite not being the most practical of features, sunroofs are still in moderate demand among motorists who seek a more lavish driving experience.
The popularity of sunroofs is down to their age; they have existed almost as long as driving itself. So, it makes total sense why so many of us see sunroofs as such a desirable aspect of a new car. Another possible explanation would be the growing trend of panoramic sunroofs made popular by the Tesla Model S.
Unfortunately, the overall popularity of sunroofs, particularly in 2021 is dwindling. Between 2020 and 2021, searches for sunroofs decreased by 9%.
Bluetooth functionality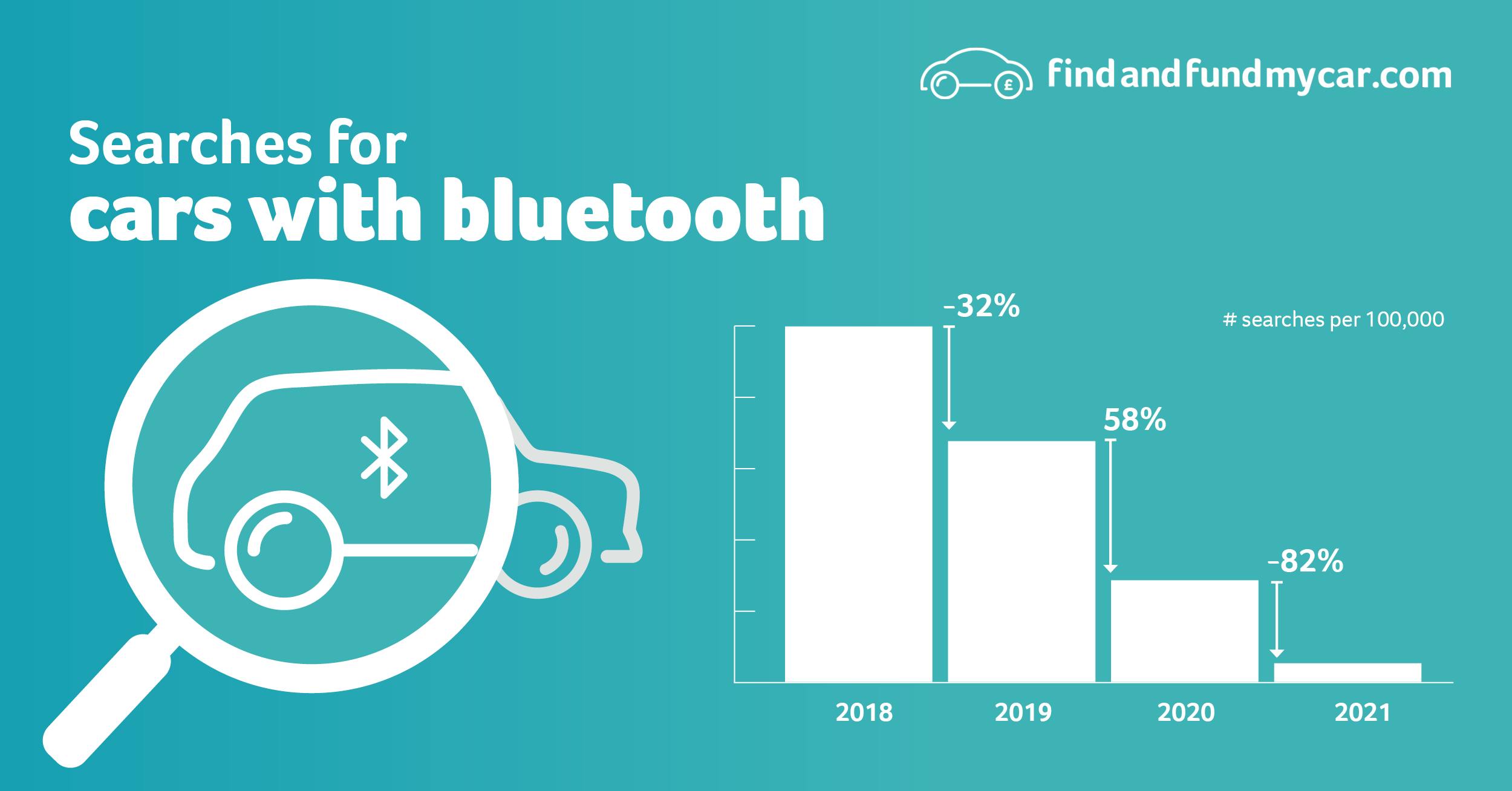 Bluetooth is a really nifty invention. Its history dates back to 1999, with its first commercial implementation taking place within a wireless headset. Nowadays, Bluetooth can be found within almost any modern invention, from kids toys to wireless headphones.
Naturally, Bluetooth has migrated its way over to our cars and provided us with the ability to wirelessly connect our phones and enjoy our portable music libraries while on the move. Most cars these days have some form of Bluetooth connectivity, whether through allowing hands-free calling or the utilisation of Apple's CarPlay technology.
As more of our cars begin to adopt Bluetooth, it appears that less and less of us are seeing it as a desirable feature. Over the four years we looked at, searches for Bluetooth functionality has decreased by a whopping 95%.  
Parking sensors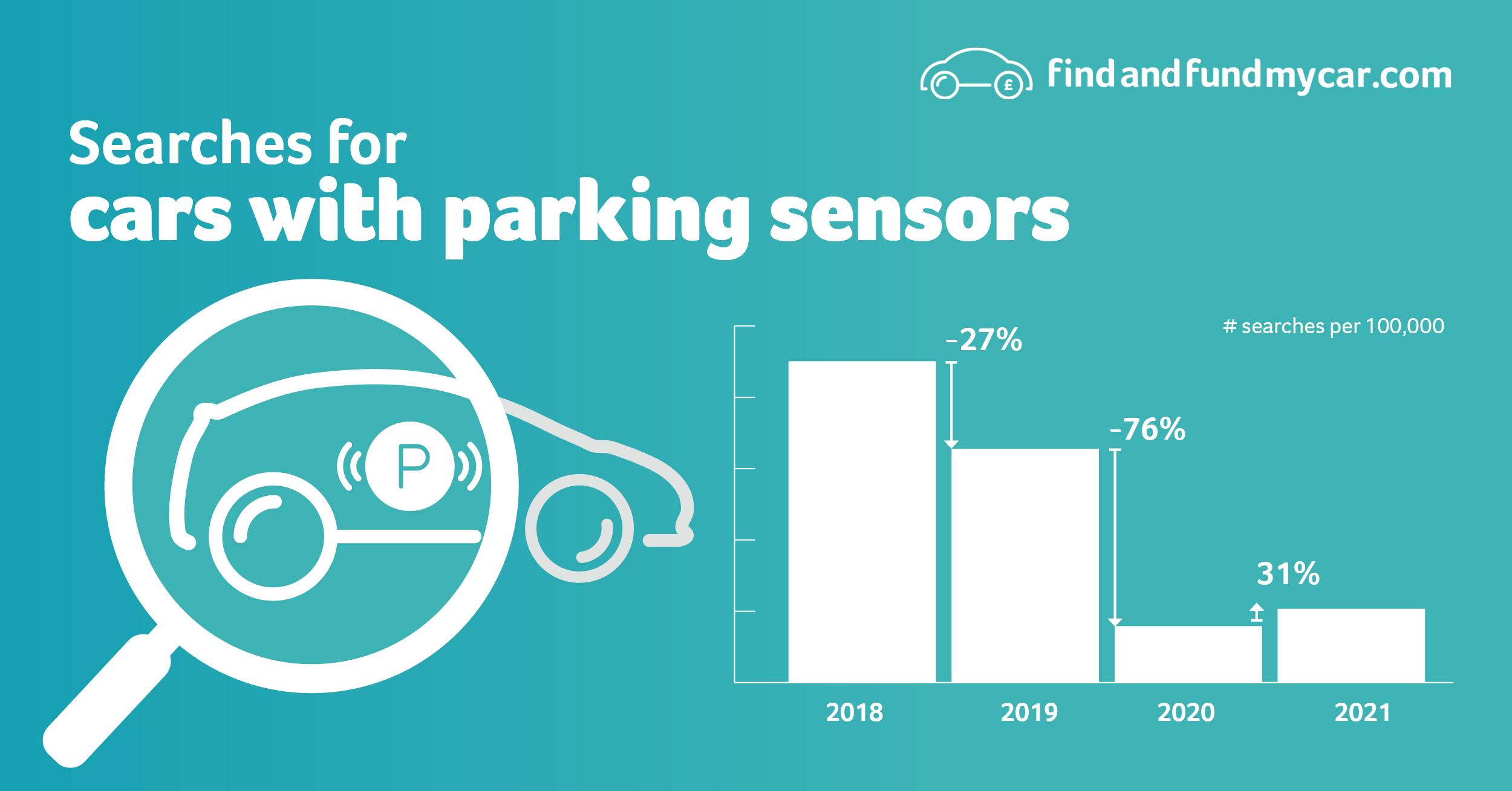 Parking can be a nightmare at the best of times. Placing a car neatly between two obstacles in a poorly defined area sounds like enough of a challenge without the added stress of being an obstruction for other drivers. To make things a bit easier for the less naturally gifted car parkers of the world, parking sensors are a much-welcomed invention.
Placed on the front, rear, and sometimes the sides of a car, parking sensors give off an audible noise whenever a vehicle comes in near contact with another object like a wall or another car. In this digital age, it seems motorists are refusing to settle for having to park their cars without assistance, hence the mild popularity of parking sensors.
Although popularity is sitting at an all-time low, interest for parking sensors is witnessing a resurgence with searches for parking sensors increasing by 31% in the past year.
Reversing cameras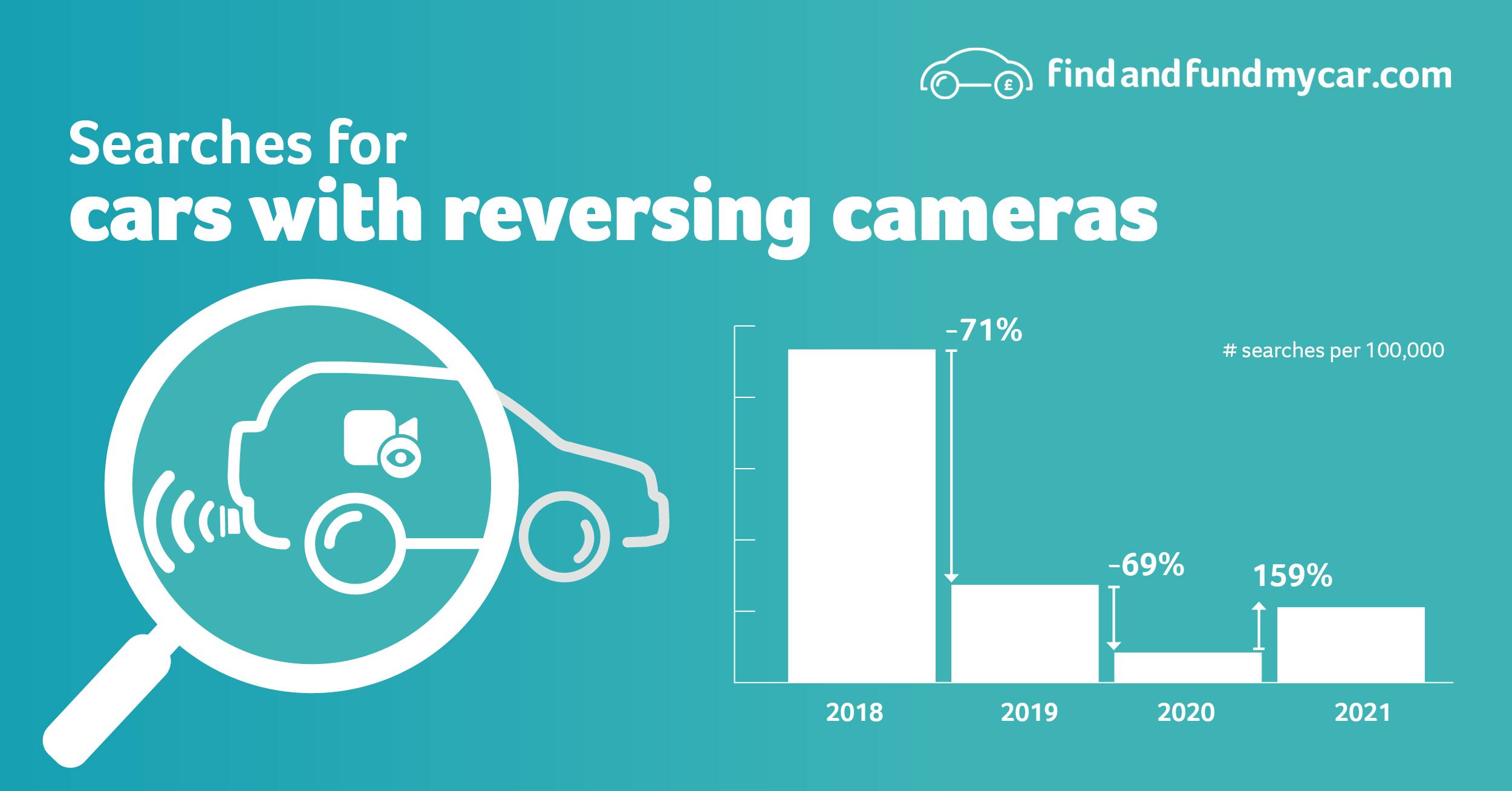 Another sensible invention, reversing cameras are perhaps the flashiest of technological developments that a car can have.
Much like parking sensors, reversing cameras are located on the back of cars usually close to the numberplate or recessed into the bumper. When the car is put into reverse, these cameras show drivers their surroundings without them having to move their head. It's a feature that any cautious driver would be keen to have, but its interest slowly declines from then on.
Popularity-wise, reversing cameras follow a similar curve to parking sensors, wherein search percentages have risen by 152% in 2020-2021.
Is there an explanation?
It is quite difficult to pinpoint the exact reasonings for these shifting demands, but a potential explanation could derive from newer cars just simply being much more technologically gifted. When things become standardised, they blend into the background and out of our focus, which could suggest why this list doesn't contain features such as alloy wheels or cruise control.
Going forward, it is incredibly likely that cars will contain all of these features as standard, leaving motorists to look towards the very next technological trends, whatever they may be. After all, the best technology is invisible.
Motoring industry insights from findandfundmycar.com
The motoring industry moves fast, so it can be quite hard to track the latest trends and information.
Keep yourself informed with findandfundmycar.com. We document many different types of developments in our blog, and also write about the very best used cars available from our network of trusted dealerships.