Driving has a lot of costs associated with it. From running costs like fuel and insurance to other factors like parking and MOTs, each of us pays differently to keep our motors running.
Of course, where you drive influences your running costs too. However, how much of an influence does location have, and does your current location mean you pay above the national average?
We've researched fuel, MOT, insurance and parking costs across the UK to find the most expensive and cheapest places to drive in the country.
We looked at central postcodes across 25 cities in the UK using a variety of data sources. The results threw up some surprising trends, so read below and discover whether to see if you're one of the lucky drivers saving on their running costs.
The cheapest cities for fuel
To find the cheapest place in the UK to buy fuel, we analysed the average cost of unleaded and diesel in each postcode, then multiplied it by the average fuel tank size (43 litres).
The results showed that Manchester was the cheapest place to buy fuel at £47.30 per tank, while the most expensive was tied between Southampton and Swansea at £50.31.
It is surprising to see Manchester, one of the largest cities in the UK, be the cheapest for fuel as other large cities, such as Birmingham and London, had average prices of £49.02 each.
For Wales, Cardiff was much cheaper than Swansea at £48.16, while in Scotland, Edinburgh was the cheapest at £48.59, with Aberdeen and Glasgow at £49.02 and £49.45
See the top-ten cheapest locations below: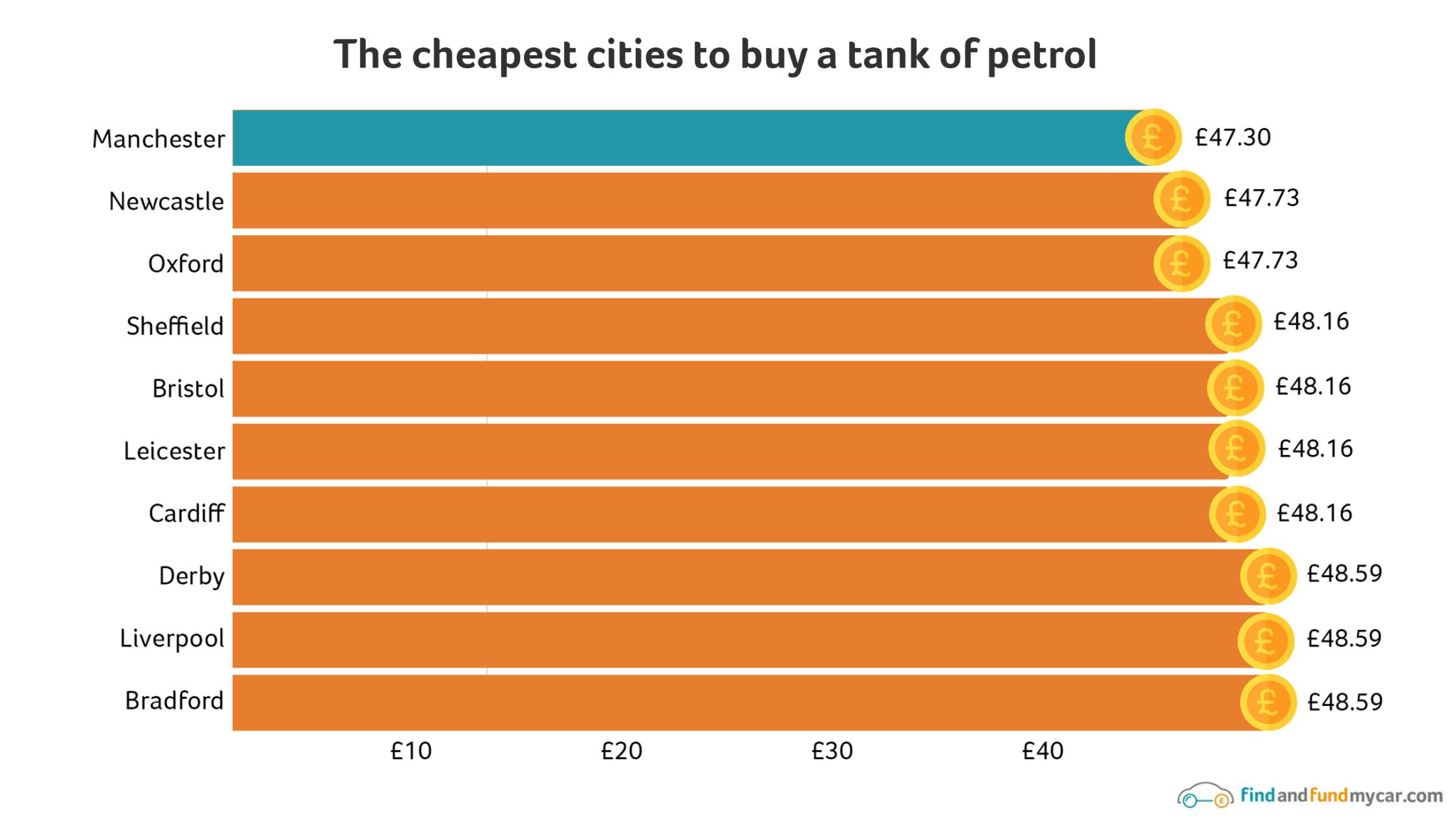 The other cities we surveyed for petrol prices were: 
Edinburgh - £48.59
Exeter - £48.59
Cambridge - £48.59
Swindon - £48.59
Birmingham - £49.02
Leeds - £49.02
London - £49.02
Aberdeen - £49.02
Coventry - £49.45
Glasgow - £49.45
Reading - £49.88
Bournemouth - £49.88
Gloucester - £49.88
Southampton - £50.31
Swansea - £50.31
The cheapest cities to park in the UK
From shopping trips to your work commute, parking fees are a problem that will affect some people more than others. Larger cities typically have more expensive parking than smaller ones, and whenever there is more competition for space, an inflated parking price usually follows.
The results, unsurprisingly, named London as the most expensive city centre in the UK to park per hour. The cheapest was Coventry at £1.18 an hour, with Swansea being the cheapest in Wales (£1.30) and Glasgow the cheapest in Scotland (£2.04).
Do you feel like you're paying too much for parking? It's never nice to pay, but maybe the results below will make you feel better about it (or worse):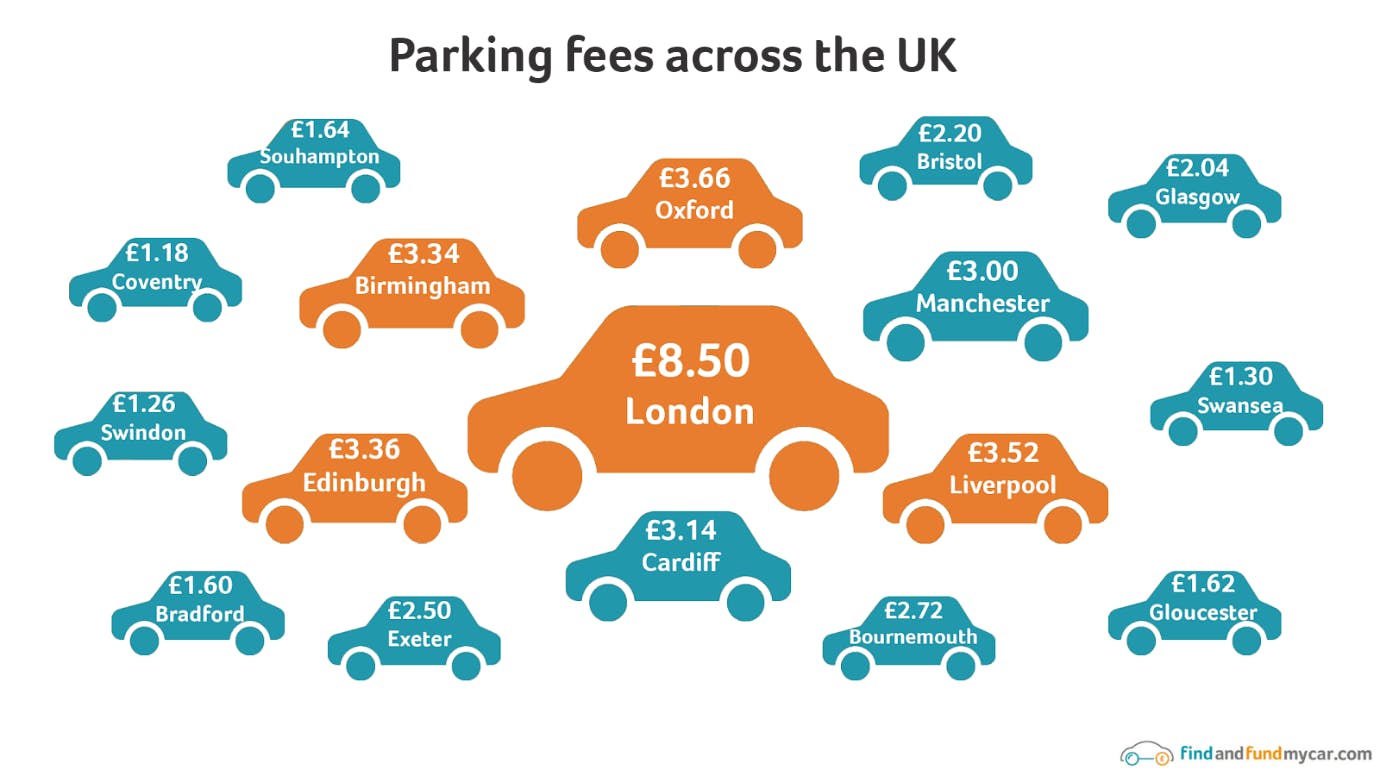 The cheapest MOT prices in the UK
MOTs can be an annoying but necessary cost to keep you safe. However, most people believe that MOT costs can be pretty static across the UK.
However, our research showed that there were geographical implications relating to MOT price. Certain areas of the UK pay significantly more to get their car MOT'd compared to others. Here are the top ten cheapest places to get an MOT: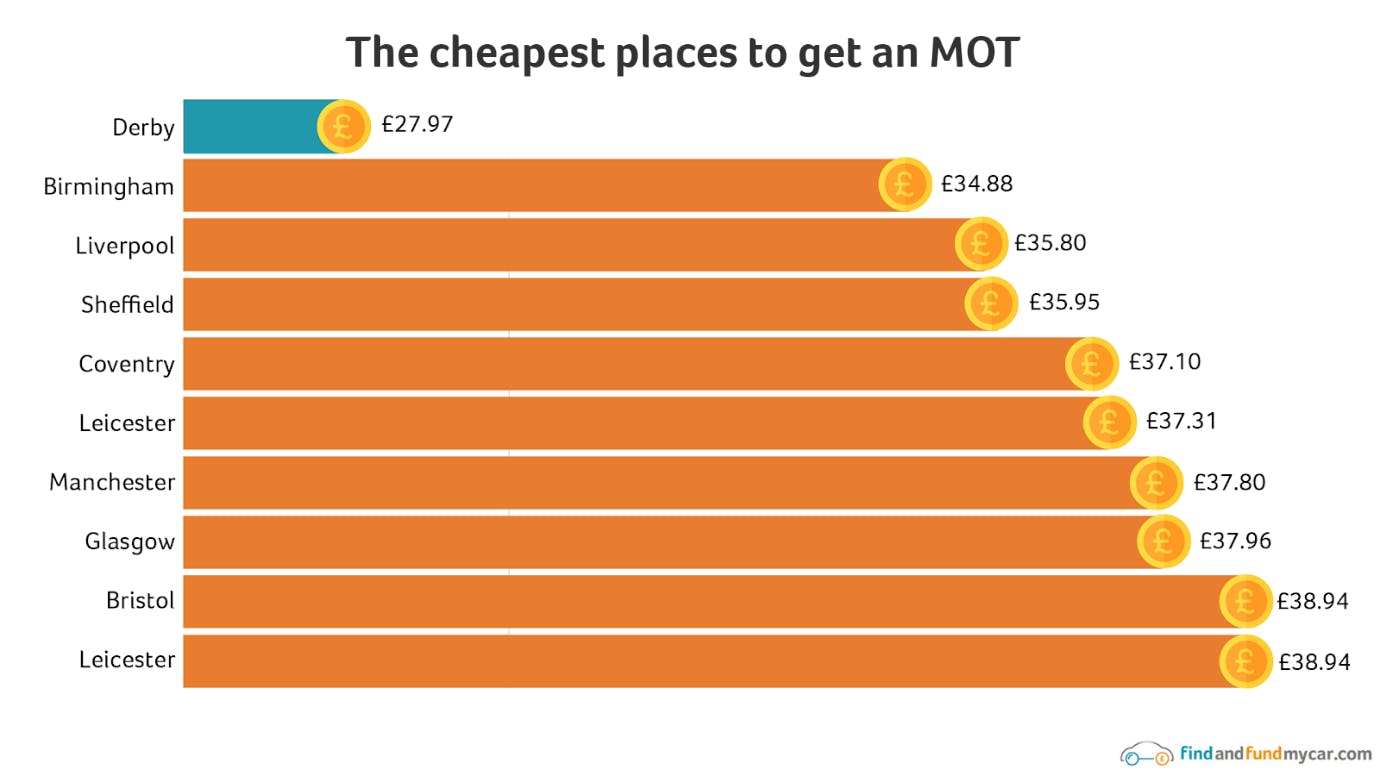 On the pricier end, Aberdeen tops the list as the most expensive city in the UK to get your car MOT'd. MOTs in Aberdeen cost £53.44 on average, while the same service in Derby would cost £27.97, a saving of £25.47 (over 50%).
This is a massive saving between the highest and lowest, and it's a pattern that's echoed across the UK. The average MOT costs for the other cities are:
London - £39.37
Bradford - £39.38
Reading - £39.47
Edinburgh - £39.85
Newcastle - £39.93
Exeter - £40.71
Bournemouth - £40.98
Gloucester - £41.68
Cambridge - £42.00
Swindon - £42.07
Southampton - £43.38
Oxford - £43.94
Swansea - £46.97
Cardiff - £48.03
Aberdeen - £53.44
The cheapest places to get insurance in the UK
Insurance costs have geographical weighting too. Depending on the rate of accidents, traffic and other factors, the place you live can have a significant effect on your insurance premiums.
Our research showed that an insurance quote can differ by a staggering £473.18 depending on location.
Cambridge was the cheapest place to insure a car at £497.71 with Manchester being the most expensive at £970.89.
This massive gap is indicative of the entire UK. Here are the places where it costs the least to get your car insured: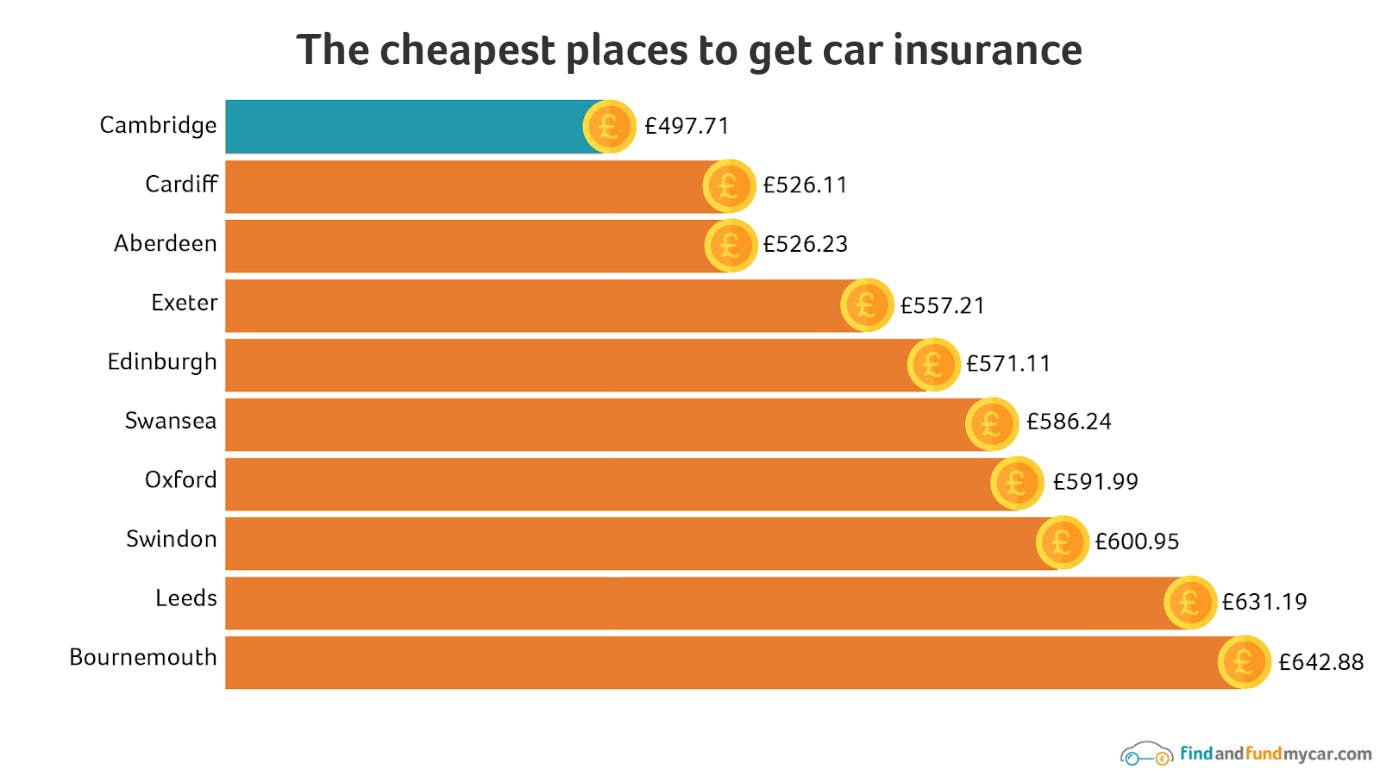 Reading - £658
Bristol - £674.22
Gloucester - £675.06
Glasgow - £705.35
Southampton - £716.02
Derby - £748.5
Newcastle - £755.25
Liverpool - £780.35
Birmingham - £814.56
London - £824.69
Leicester - £850.59
Bradford - £853.04
Coventry - £898.95
Sheffield - £961.56
Manchester - £970.89
The cheapest and most expensive places to drive, revealed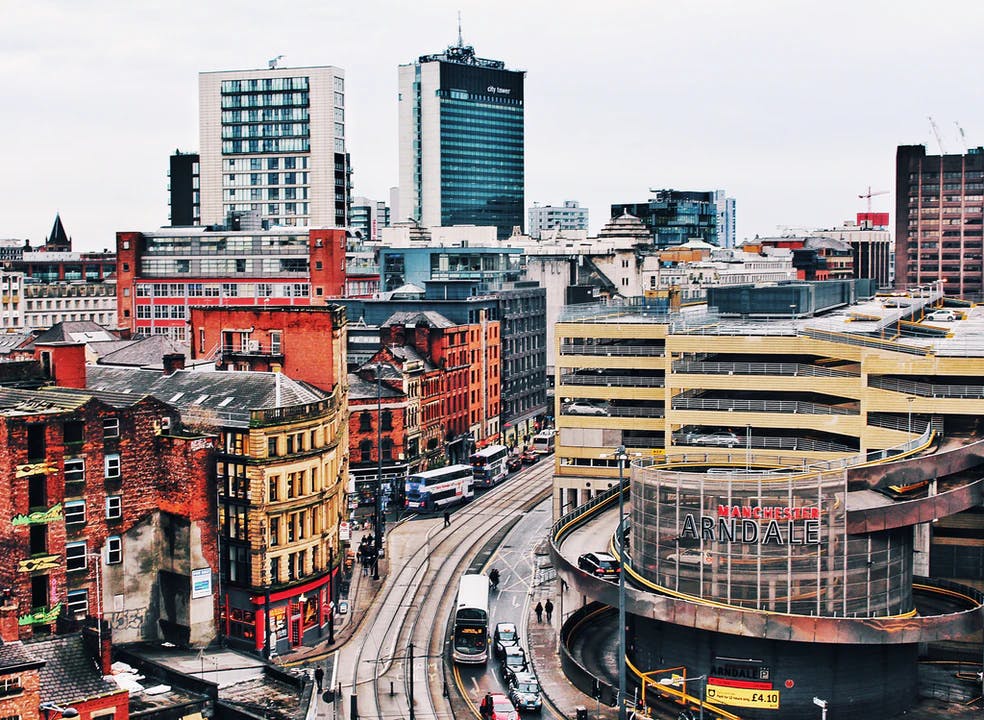 With all this data, we averaged out each cost to arrive at the cheapest and most expensive places to drive overall.
Remember how Manchester was the cheapest place to buy fuel? Well, that flattered to deceive. It's actually the most expensive place to drive in the UK, with an average cost of £1058.99. It may be cheap to fill your car up there, but insurance and MOT costs drive the average right up.
The cheapest place to drive in the UK was Cambridge, with an overall average of £590.34. The very low insurance costs helped this, as well as humble averages for fuel, MOT and parking.
We've listed the cheapest cities to drive in below: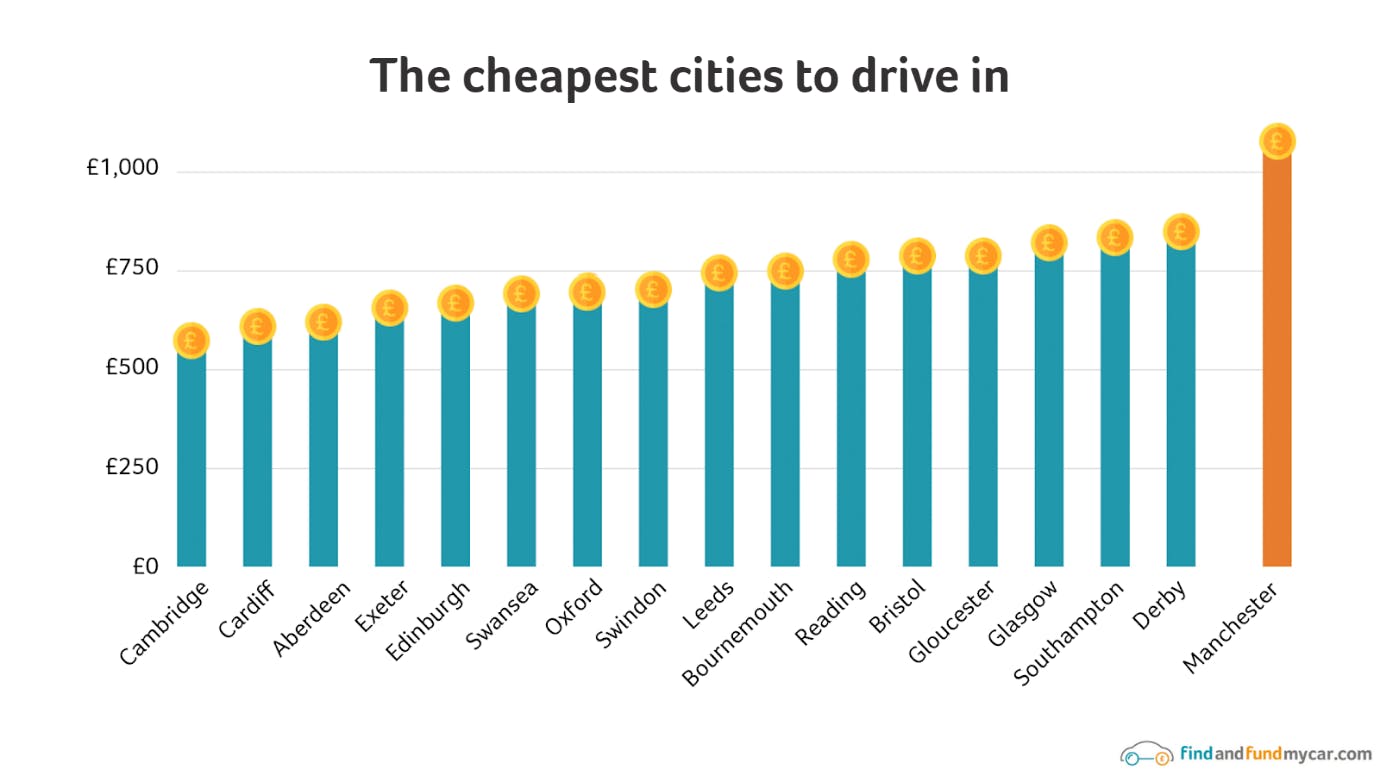 Make savings with findandfundmycar.com
In all likelihood, you won't be able to pack and up move just because it's more expensive to drive where you are. While it's interesting to see the differences between different areas of the UK, the best way to save money when driving is by choosing a reliable, economical car.
At findandfundmycar.com, we have a range of used cars for sale from reliable dealers to suit you. From small city runners to 4x4s, our handpicked selection of dealers will ensure you save money with every mile you drive.
Methodology
Our data was collated by finding the average petrol price, diesel price, MOT price, insurance price and town centre parking price for 25 cities in the UK. We used data associated with the central postcodes of each city. 
 The data was found through a mix of sources, namely government data and third-party sites like parkpedia.com. 
 To find the overall cheapest city to drive in, we added together the cost for each city and then calculated an average. This was then ranked from highest to lowest.