It's all very well taking out finance based on what you can afford right now, but what if something unpredictable happens in the future and your finance repayments aren't covered?
You could also stand to lose quite a bit of money if your car is stolen or written off under finance and you have no protection against a potential shortfall on your finance agreement. Don't worry – there are insurance options available to offer you peace of mind and protection.
findandfund is powered by MotoNovo Finance who not only provide finance to fit your budget, but also GAP Insurance and MotoNovoCare to protect your finance agreement. Keep reading to find out what that means…
GAP insurance
'What is GAP?' we hear you ask. Well, GAP stands for Guaranteed Asset Protection. It's an insurance that protects you against any losses that could occur from your vehicle being written off or stolen. This might sound the same as regular motor insurance, but that will only pay out what the vehicle is worth at the time of the claim. It doesn't take into account what you might still owe on your finance agreement or the cost of the car when you bought it, potentially leaving you with a hefty shortfall.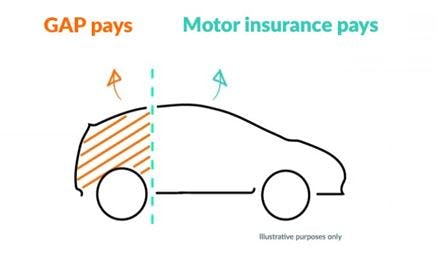 There are two types of GAP insurance to consider:
Shortfall GAP
If your car is written off or stolen before your finance agreement ends, your motor insurance may only pay out what your vehicle is worth at the time which could be less than the amount you owe on your agreement, leaving a 'gap'. Shortfall GAP covers you for the difference.
You can get Shortfall GAP cover from MotoNovo for a one off premium of £199, paid on a date of your choice before your finance repayments start, and you'll be covered for the duration of your agreement.
Shortfall GAP isn't designed for those on a Personal Contract Purchase (PCP) agreement, but you might be interested in Return to Invoice (RTI) GAP.
RTI GAP
If your vehicle is written off or stolen before your finance agreement ends, most motor insurance companies will only pay out what the vehicle is worth at the time of the claim, which could be less than the original purchase price of your vehicle.
So, unlike Shortfall GAP which covers you for the difference between the value of the vehicle at the time of the claim and the amount left on your agreement, RTI GAP covers you for the original purchase price.
That means you won't be left out of pocket and you can focus on getting back on the road (in a vehicle similar to your old one if you like!).
The cost of RTI GAP depends on the vehicle, but can vary from £99 to £499. The policy will last three years, giving you some added protection if your finance agreement is only two years. If your vehicle value is over £69,999 then you're not eligible for RTI GAP, but you could opt for Shortfall GAP.
Keep in mind, you need an agreement with MotoNovo Finance in order to take out cover with MotoNovo. You can also find out more about the exclusions and limitations over on MotoNovo's website.
MotoNovoCare
It's not something anyone likes to think about, but if the worst should happen, MotoNovoCare is there to protect you.
There are three main elements to MotoNovoCare and you can choose the cover that best suits you:
Unemployment protection - helping you keep up repayments in the event of involuntary unemployment
Accident and sickness protection – helping you continue repayments if you cannot work for up to 12 consecutive months as a result of an accident or sickness
Life and terminal illness cover – supporting you to settle your finance agreement in the event of a terminal illness diagnosis or death
The cost of MotoNovoCare will vary depending on the level of cover you choose and your finance agreement. Our insurance team are happy to chat through the details with you.
Interested? Give MotoNovo a call on 0333 320 3327.