Car radios have come on leaps and bounds in the past five years. Transitioning from traditional dial-based models with simplistic customisations to fully-fledged touchscreen units running entire operating systems, the changes are quite drastic.
Out of this consistent path of innovation comes two main names battling it out to be crowned the superior system. In this article, we look at the similarities and differences of both Apple CarPlay and Google's Android Auto, helping you decide which system to opt with in your next car or radio upgrade.
Apple CarPlay and Android Auto explained
Before we compare these two titans, it helps to explain exactly what they both are and how they operate.
Apple CarPlay and Android Auto are two types of operating system that can be installed on modern car radios. They help with travel directions, media playback and contacting friends and family. You can think of them as an extension to your already advanced car radio.
It's currently not possible to use Apple CarPlay with an Android phone, and vice-versa. This is due to the manufacturers placing restrictions on the types of apps needed to properly communicate with all the services offered by both systems. This means that your options are heavily influenced by whatever phone you own.
While both systems accomplish similar tasks, they do so in slightly different ways. So, let's have a look at the features of both for clearer insight.
Apple CarPlay features
First, let's run through some of the features of Apple's CarPlay system.
Apple CarPlay communicates flawlessly with all your existing Apple products. Utilising broken down versions of the same apps you know and love on your phone, Apple CarPlay is focused on simplicity. Navigation uses Apple Maps, Music is controlled with Spotify or Apple Music, and calling friends and family can all be accomplished with the Phone app that automatically synchronises your contacts whenever you connect.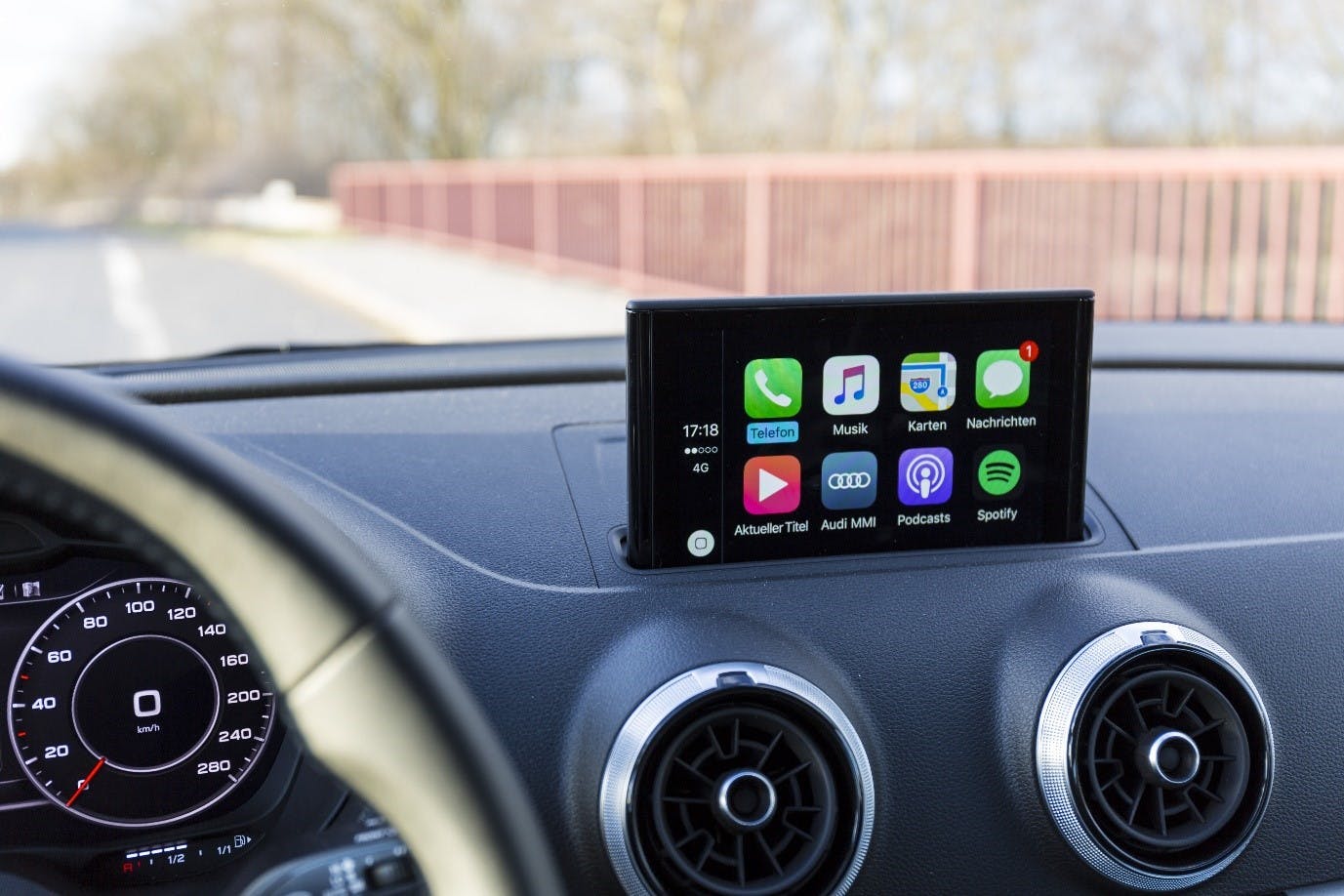 Newer versions of Apple CarPlay have taken the technology one step further by allowing users to unlock their cars with their phones directly. Built directly into the 'Wallet' app on iPhones comes a new digital key that users can even share with friends and family wherever they are. Say goodbye to misplaced keys.
CarPlay even works with a select few apps that are already on your iPhone. Things like Amazon Music, YouTube Music, Audible, Tidal, Waze and even WhatsApp can all be used by your car's touchscreen when you connect, providing a truly seamless experience.
Is Apple CarPlay wireless?
The wireless capabilities of Apple CarPlay are a bit unpredictable. Early iterations of it are only enabled via connecting a USB lightning cable directly to your car, whereas modern units are increasingly being rolled out on a completely wireless basis.
It can be difficult to know which version you have, and Apple hasn't made it very clear for its users to figure out. There are adapters for older versions to convert wired connections to wireless, but these add another layer of bulk (and cost) to a solution that you're already paying a premium for.
Android Auto features
Android Auto is built similarly to Apple CarPlay except with Google-based features and apps opposed to those provided by Apple. Backed by the search engine formed in 1998, its search functionalities are what sets it apart with stellar voice recognition capabilities allowing users to sift through contacts, directions, and music with ease.
Navigation is handled with Google Maps, music is supported through Spotify or Google Play Music, and contacts are synchronised with whichever contacts app your phone has. With wide functionality with millions of phones running Android, Android Auto is great for those who already have a slightly older phone who aren't looking to upgrade anytime soon.
Benefits of Apple CarPlay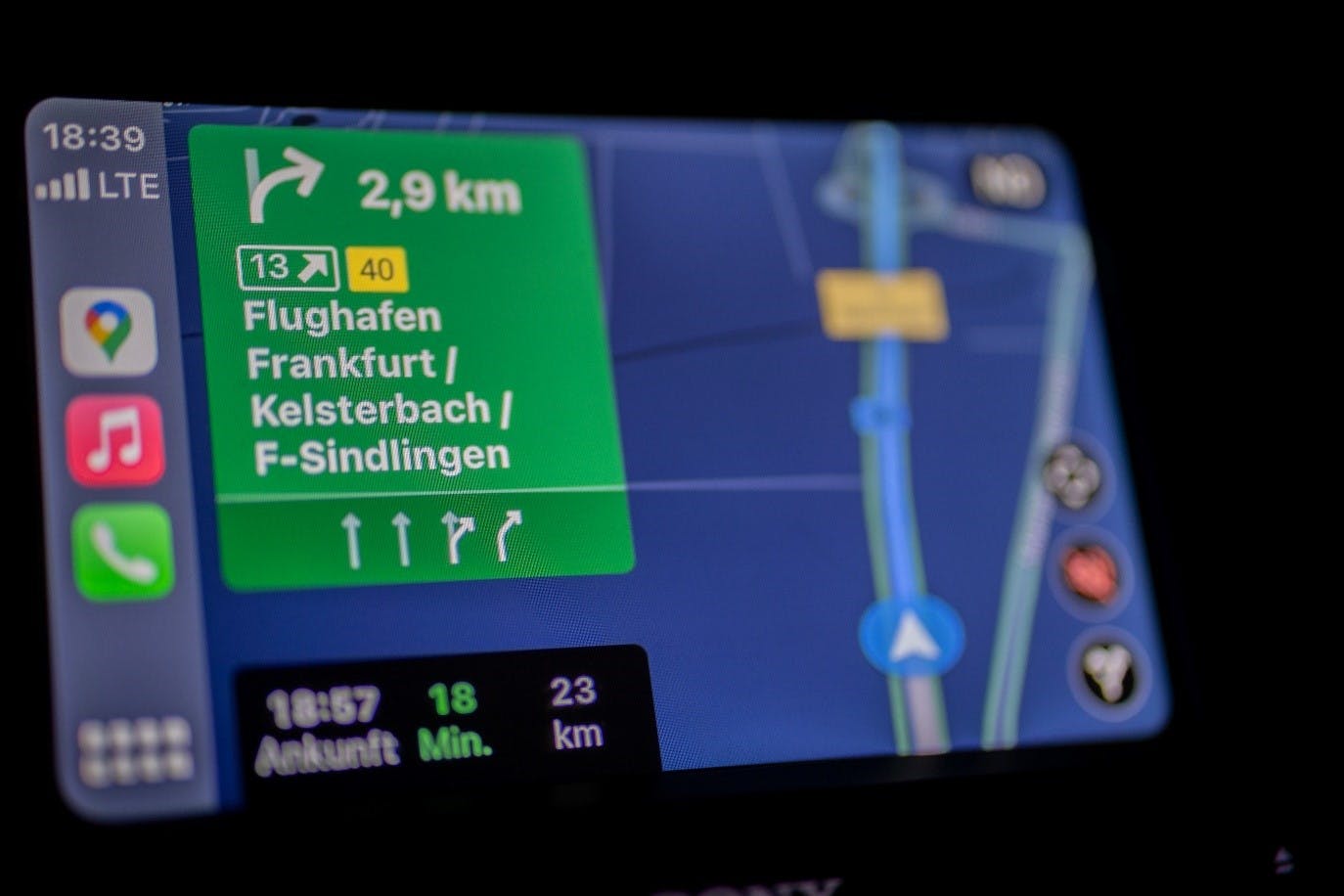 Seamless experiences
The Apple mantra of "it just works" is certainly what makes CarPlay stand out. There are no new apps to download to your phone; simply connect, authorise and you're on your way. The interface closely resembles that of an iPhone, so if you're used to navigating menus in a matter of seconds on there, you can do the same thing from your car.
Straightforward operation
Apple CarPlay is very intuitive. Provided you have even a tiny level of experience with touchscreens (which most people do these days), you'll be up and running on CarPlay in just a few seconds, even in a brand new car. Need directions? Open Apple Maps. Music? Apple Music is right there.
Stable operation
Apple CarPlay receives its updates alongside your iPhone, so you can always ensure your car is protected from hacks and data leaks, and suffers next to zero downtime due to bugs and software crashes.
Multi-tasking capabilities
The most surprising feature of Apple CarPlay is how well it handles multi-tasking. Being able to transition smoothly from your navigation to your music is a benefit that should never be overlooked. Remember, the processors in your car's radio aren't exactly built to handle multiple workloads, but the amount of development Apple has plunged into CarPlay has made it handle varying tasks with ease.
Benefits of Android Auto
Wide phone support
No matter what Android phone you have, you'll have access to Android Auto. There are millions of Android phones out there in all shapes and sizes, but because they share a joint operating system, you can find a usable Android phone capable of running Android Auto for next to nothing.
Superior search capabilities
The biggest standout feature of Android Auto is its search. Google has perfected voice search and navigation since rolling it out in the early 2010s. So much so that it's actually much faster to dictate commands to your phone instead of doing them yourselves these days, and the same applies to Android Auto.
Deep App catalog
Google's Play Store is choc-full of a variety of apps that are approved much quicker than those on Apple's App Store. This means you almost always have higher levels of accessibility to new, experimental apps that are uploaded every single day.
Mostly wireless operation
Unlike CarPlay, Android Auto was introduced on a mostly wireless basis. This means fewer cables and less clutter in your possibly already full car. Not all versions are wireless, but the majority of implementations can be connected with just a Bluetooth connection.
Regularly updated navigation
Much like its search prowess, Google has been a market leader in navigation for some time now. Google Maps is an entirely open platform that uses open-source APIs to pull new street information from all kinds of other providers. They even send cars around every few years to re-scan our world's road system to improve both photography and direction information.
Which one should you choose?
These days, nearly all new cars come with either Android Auto or Apple CarPlay. We are starting to see some new cars emerge with both options, but you can expect to pay a hefty price tag for the luxury of versatility.
If you're a die-hard iPhone fan, CarPlay is the way to go. If you're an Android aficionado, you know what to do. No matter what you do, you'll want to make sure you get a fair price on the motor that includes these precious features.
At findandfundmycar.com, you can browse thousands of used cars equipped with a variety of technical creature comforts to accompany you on your next commute. Have a look today and finally take the plunge into this next era of smart radio technology.