Whatever the weather, unpredictable events can happen when you're out on the road. Being properly prepared with your homemade car survival kit, and with the right knowledge, can mean the difference between an inconvenient afternoon and a whole lot of expensive, stressful struggles.
Below, we go into our top emergency car kit ideas to keep you safe in the event of a breakdown.
creating your homemade car survival kit
There are certain things that you should always have in case of an emergency. Whether you break down, get lost, or puncture a tyre, knowing how to recover yourself and having the equipment to do so can save you a huge amount of time, money, and stress. Your car emergency kit checklist should include:
A portable mobile phone charger
A battery-powered flashlight, and spare batteries in case they die
Bottled water and food that won't spoil, like energy bars
Jumper cables
A reflective jacket
A blanket and warm clothes
An ice scraper
A whistle, in case you need to attract attention
Tow cable
An emergency triangle to alert other drivers
A seat belt cutter
A first aid kit
The last item on this list is a kit-within-a-kit, which you'll also need to make sure is properly equipped.
your car first aid kit checklist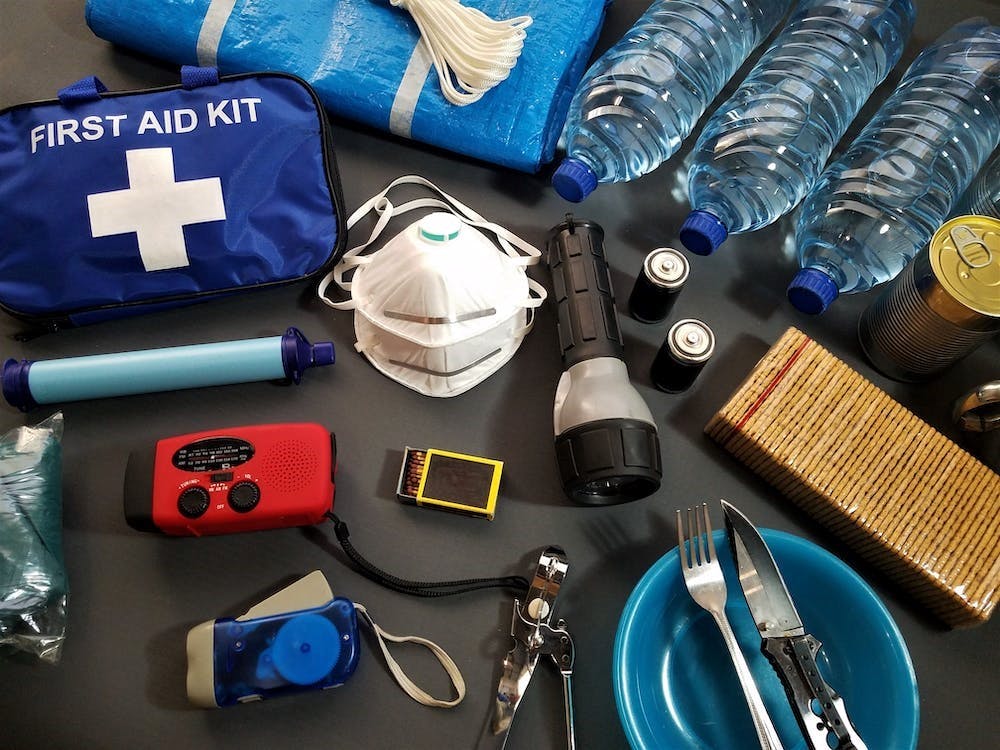 The first aid kit you keep in your car doesn't need to be big, but you should make sure it has everything you need. Fortunately, most of the essentials don't take up much space, anyway. Try to include the following in your kit:
A thermometer
Adhesive tape
Aloe vera for mild burns
Antibiotic cream/ointment
Antihistamines
Cotton swabs and cotton balls
Curved medical scissors
Gauze pads
Hand sanitiser and/or antiseptic wipes
Instant cold pack
Instant heat pack
Paracetamol, ibuprofen, or other pain relief medication
Plasters
Suncream
Tweezers
Vaseline
All of the above should fit into a small kit that you can keep in the boot of your car. Alternatively, you can find pre-made kits available online or in relevant physical stores.
maintaining your car emergency toolkit
Now that you've assembled everything you need for your car emergency toolkit, you need to make sure you maintain it properly so that everything's in working order if you do break down.
For example, make a note of the expiry date on the food you keep in your car. Although you'll only be keeping food with long use-by dates on anyway, they'll still expire eventually. You should also replace your bottled water every six months or so.
Make sure whatever clothes you keep in your car fit you, too. This is particularly relevant if you have young children. Putting together your kit when your child is 6 and not having to use it until they're 8, for example, could result in any emergency clothes you have for them being too small.
Keep on top of your first aid kit, too. You don't want to be in a situation where the only medication you have access to in an emergency is out of date.
be prepared mentally, as well as physically
Perhaps the most important part of being prepared in the case of a breakdown or something similar is to recognise the signs your car is giving you that it's about to give up.
Fortunately, we've got you covered. At findandfundmycar.com, you can find helpful advice like 4 signs your car is about to break down, How to diagnose car problems for beginners, and more.
start with the right car
Ultimately, having a car you trust is the first step to navigating inconveniences on the road. With findandfundmycar.com, you can find a used car that's right for you from anywhere in the UK.