As lockdown comes to an end, the concept of returning to our regular lives has brought up mixed emotions for many of us.
While it's a time that we've all been looking forward to, it's normal to feel anxious about returning to our day-to-day, whether that be our jobs, trips to the pub or our daily commute.
Lockdown rules, at least in the UK, have led to most of us not driving. So, we surveyed the British public to find an answer to this question: "are people feeling anxious about returning to the road?"
With the prospect of rusty drivers getting behind the wheel en masse, our survey revealed some intriguing results, especially when we dug into the differences between age groups.
Take a look at the survey results below and find out why a certain demographic has been feeling the most anxious about post-lockdown driving.
The group that feel the most anxious about driving
Our survey of 2000 British drivers revealed that 23% of millennials are feeling anxious about driving restrictions being lifted.
So, why are millennials feeling anxious? Why is there such a pronounced generational gap?
Well, it may have something to do with millennials worrying about the older drivers in their life. 43% of millennial respondents said they were nervous about family members getting behind the wheel once lockdown ends, especially if they haven't driven for a while.
Over-55s didn't share this worry, with just 9% worried about older relatives and friends getting back behind the wheel.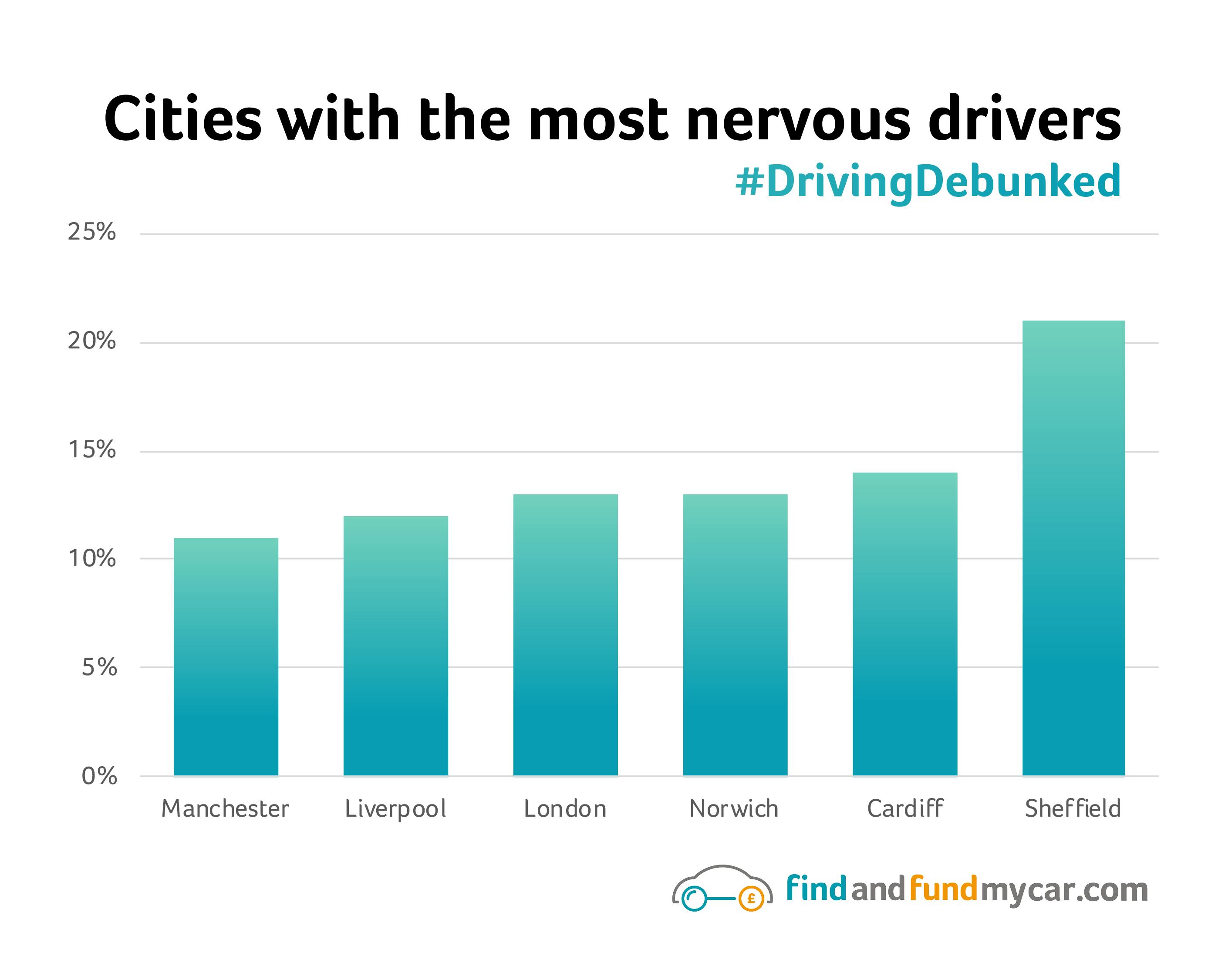 Compounding the disparities in post-lockdown driving anxiety further, there were also key geographical differences:
Sheffield – 21%
Cardiff – 14%
London, Norwich – 13%
Liverpool – 12%
Manchester, Southampton– 11%
Bristol, Glasgow, Newcastle, Brighton – 9%
Belfast, Birmingham – 8%
Leeds – 7%
Plymouth – 6%
Nottingham – 5%
Edinburgh – 3%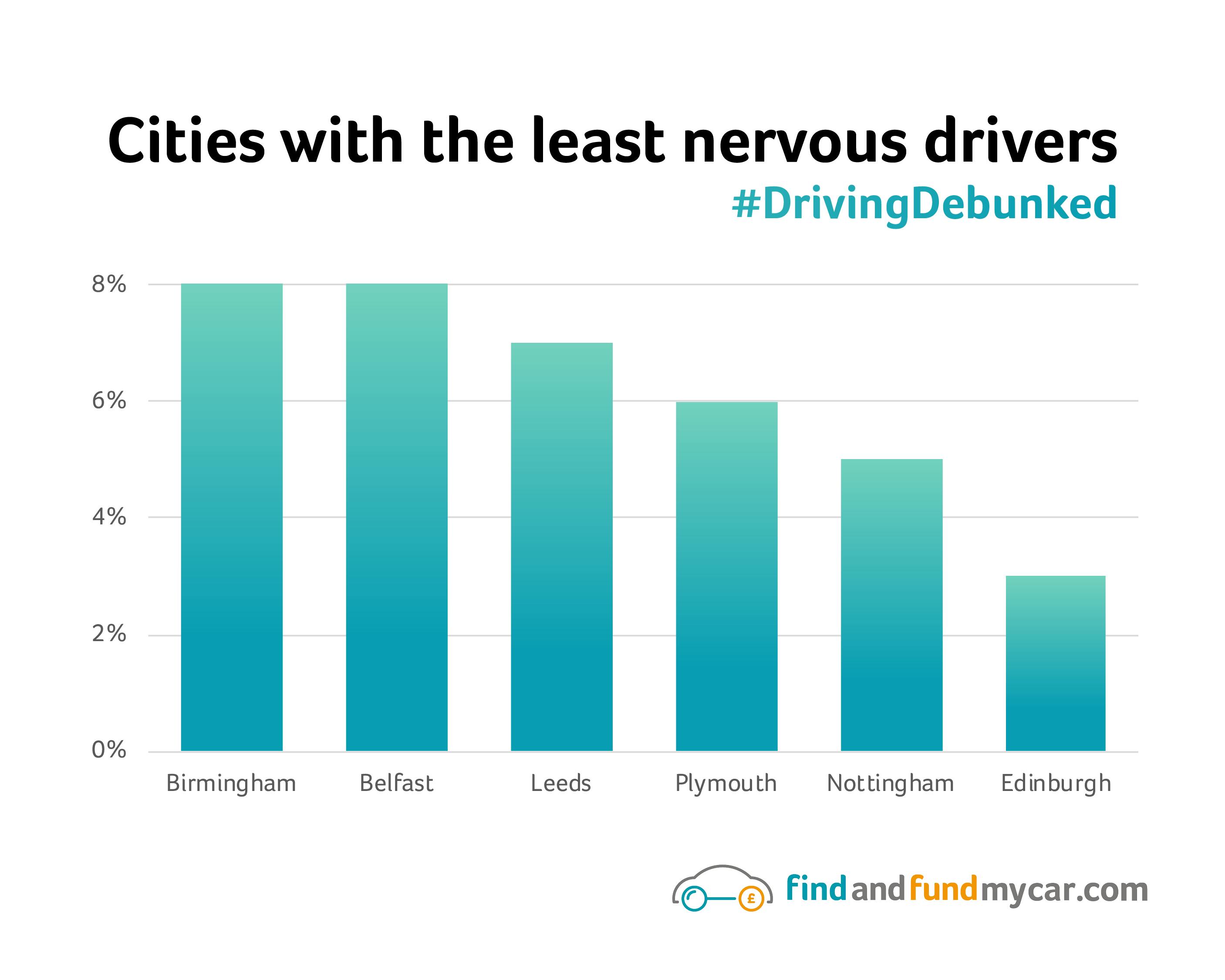 Drivers in Edinburgh are feeling the most confident about returning to the roads, while drivers in Sheffield and Cardiff are feeling less than enthused about the possibility.
Why are we feeling anxious about post-lockdown driving?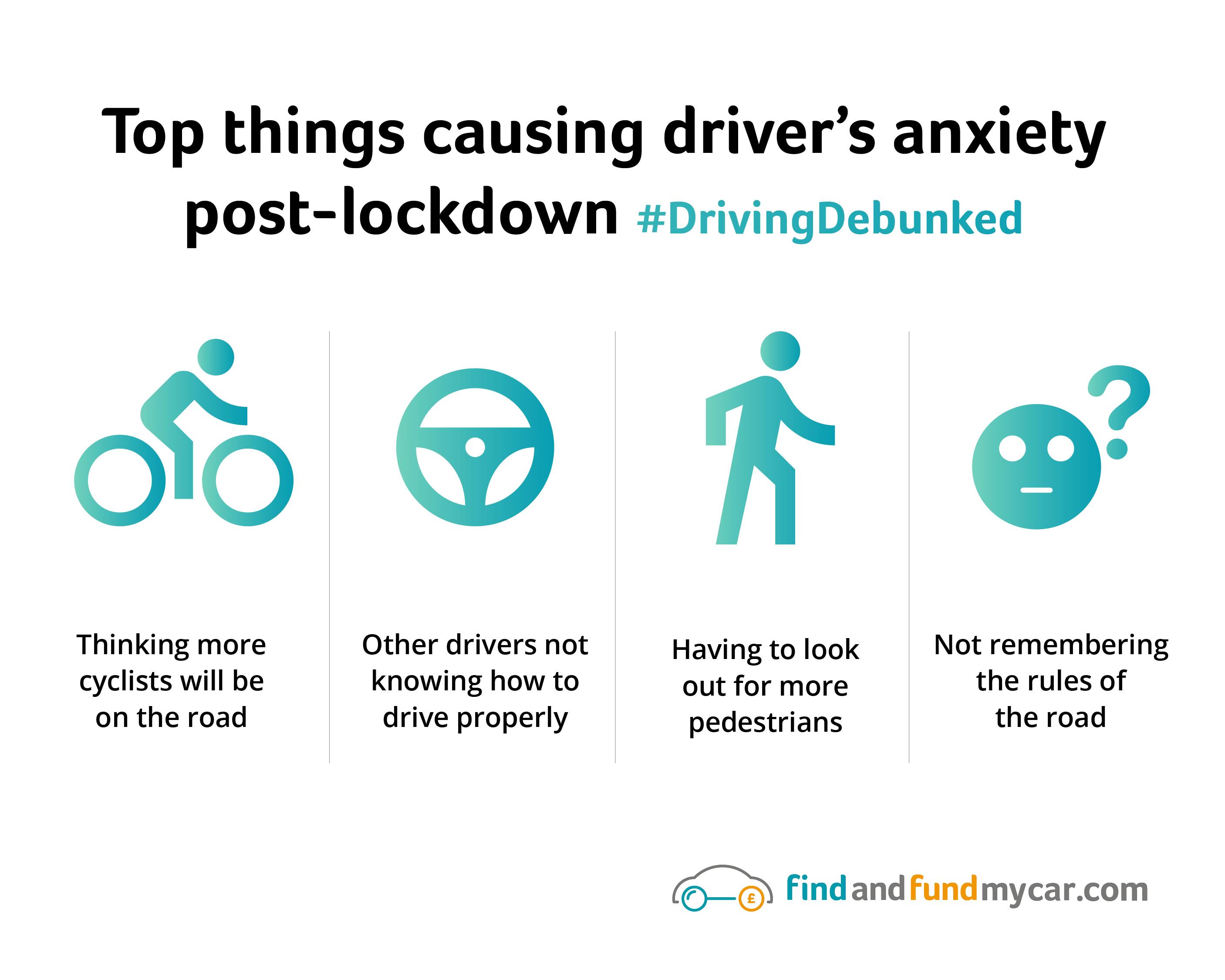 The reasons for anxiety across all respondents were quite varied. In total, drivers were anxious about the following:
Assuming that more cyclists will be on the road (19%)
Other drivers not knowing how to drive properly (17%)
Having to look out for more pedestrians than normal (10%)
Driving on the motorway for the first time in months (7%)
Not remembering the rules of the road (4%)
There was a balance between fears of a decline in driving ability combined with a belief that transport habits will change significantly post-lockdown.
However, while some are worried about more pedestrians and cyclists, is there any evidence for this?
Will traffic look different in a post-lockdown world?
While cyclists may be people's top concern, as well as there being a growing worry over there being more pedestrians, our survey found that just 3% more motorists plan to switch to using bikes after lockdown.
Alongside this slim 3% transfer of car users to bikes, only a further 2% of people are considering using an alternative form of transport.
This means that the number of cars on the road will roughly stay the same. However, this doesn't answer whether the rate of driving will return to normal.
Preferred methods of transport
55% preferred driving a car before lockdown, but 52% said they would choose to drive post-lockdown. That's 3% less
Walking was the preferred method by 29% pre-lockdown, increasing only 1% after lockdown to 30%
6% preferred to take the bus, but after lockdown only 4% say they would choose the bus, dropping by 2%
Bike was the preferred pre-lockdown transport method for 5%, increasing 3% post lockdown with 8% saying they would prefer biking
Will we be driving less post-lockdown?
On average, respondents have been driving twice a week since lockdown. These have typically been shorter journeys than pre-lockdown times, with 75% of respondents driving to get groceries.
This means, in terms of hours spent, the average driving time of most British households has nosedived. However, this is expected to return to normal once lockdown comes to an end.
In response to the findings, Phil Morgan, Head of findandfundmycar.com, says:
"It's great to see that there could be a small increase in walkers and cyclists as it's a great way to exercise. However, this could change once we're out of lockdown and things could go back to normal – it's the first few weeks that people might experience more travel anxiety.
Those that are worried about driving after lockdown should start driving a little more, even if it's just to the local park for a walk or to the supermarket. Those small trips will help drivers get their confidence back in no time. We could also see a change in car buying habits if people have different concerns and needs post-lockdown."
Get ready to return to "normal"
A lot has been made of "the new normal" and, a few months in, we all may have gotten a bit too used to it.
As we return to the "old normal", it's important to remember that this anxiety won't last forever and, after a car trip or two, we'll be back to our old levels of driving quickly.
If you're looking for a better set of wheels to shake off the rust in, consider findandfund. We have a full range of used cars from a selection of trusted, reliable dealers at great prices.