The COVID-19 pandemic has affected travel in numerous ways, the most detrimental of which has been through restricting many keen travellers to a select few countries. In light of this, many of us may choose to explore our own country until the situation stabilises.
There are of course many benefits that come with travelling in your own country: you can use the same currency, same healthcare system, and parking is a doddle, right?
Aside from the difficulties that many of us face with travel, one of the most trivial aspects of organising a city break is to find an appropriate parking space to leave our beloved cars. To help you figure out which English city is the most driver-friendly, we have collated this list of the most accessible city council areas in the country.  
Which English cities have the most accessible parking?
In pursuit of finding out which local authority area has the most accessible parking, we submitted freedom of information requests to the 43 city councils in England, asking them: how many parking spaces they have, how many of those spaces are allocated for blue badge holders, and how many parent-child friendly spaces there are.
We then used these numbers to work out the percentage of blue badge and child-friendly spaces there are in those council districts, of which tells us which ones are the most accessible.
The raw data
Before we delve further into our findings, it helps to get a broad understanding of the raw data we collected.
Out of the 43 councils we contacted, only 27 of them were able to respond within our deadline of 20 working days. There are a total of 139,195 parking spaces across these 27 city councils, 5,414 of which are blue badge spaces, and a mere 299 are suitable for families. Surprisingly, out of the 27 councils that responded, 16 of them do not have any parent-child spaces.
That leaves approximately 3.89% of spaces for disabled drivers, and a shocking 0.21% of spaces for families. Already, we can see that England is certainly not the most accessible country to drive in; however, some city councils are bucking this trend.
The most accessible city council district in England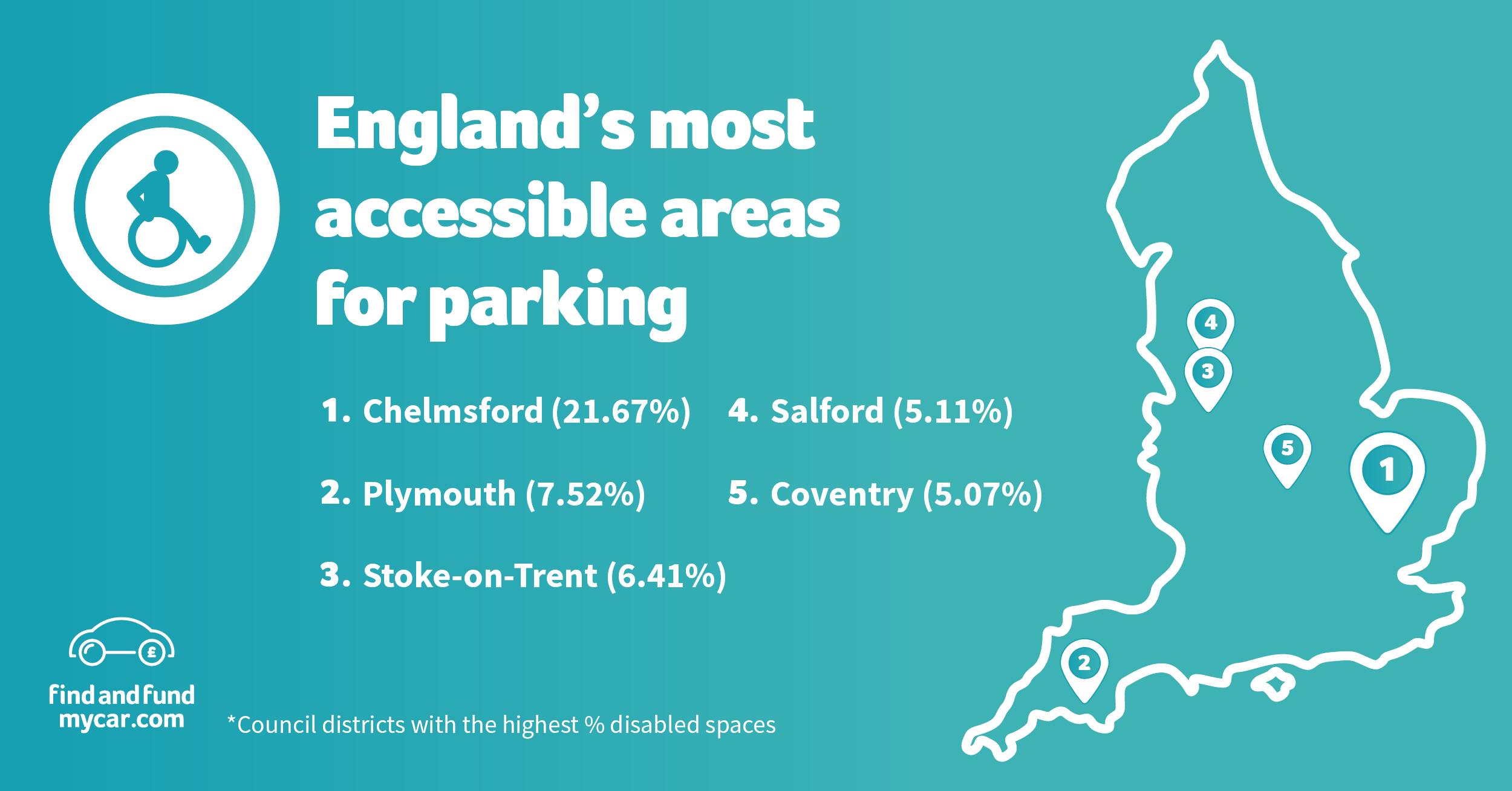 Out of its 3,276 parking spaces in total, 21.67% of Chelmsford City Council's parking spaces are allocated for blue badge holders. This makes them by far the most accessible for disabled drivers, with a rate five times higher than the national average.
The least accessible city council district in England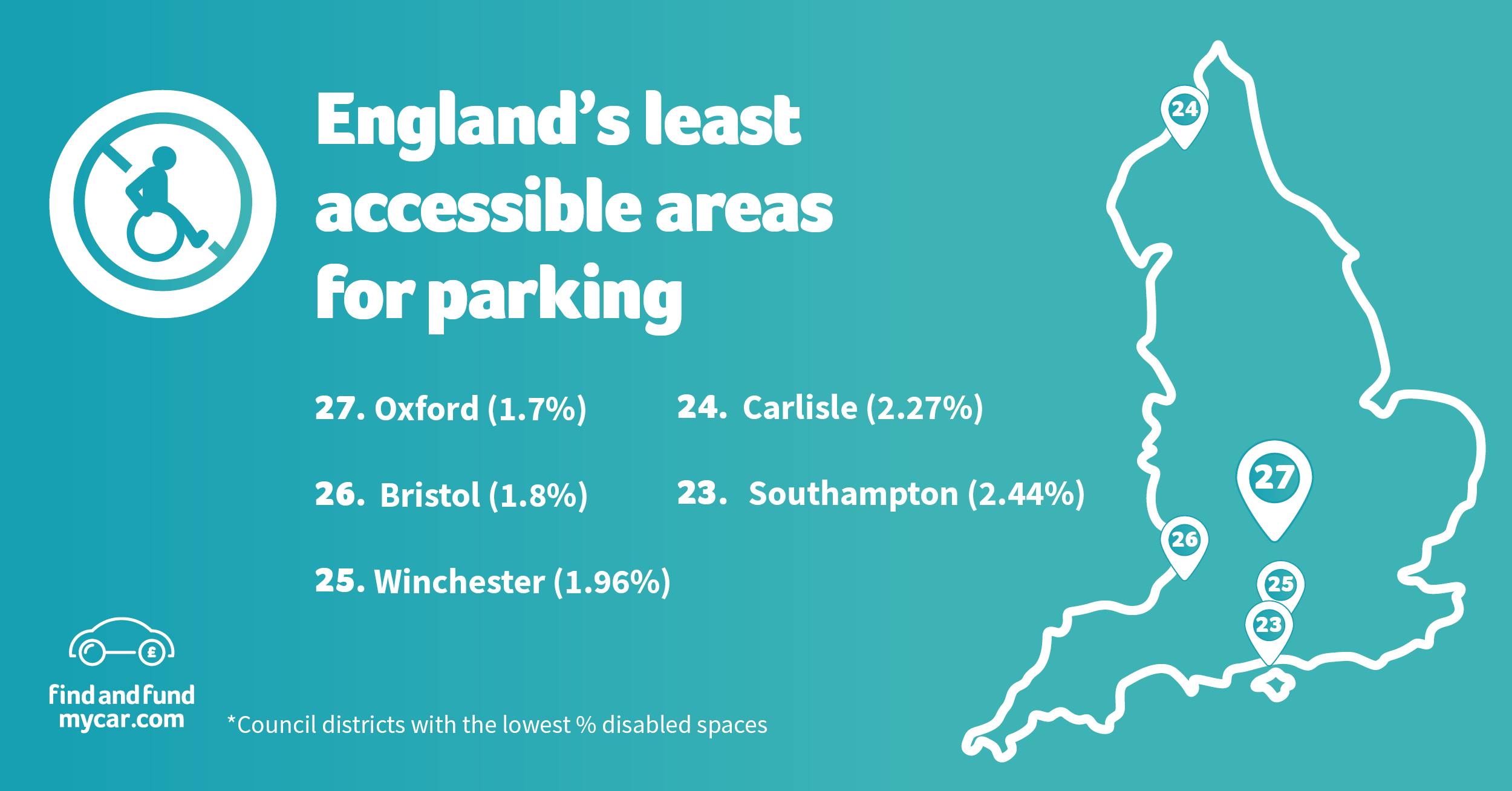 With a mere 1.7% of its 5,295 spaces suitable for blue badge holders, Oxford City Council is officially named as the least accessible area in England. This percentage is less than half of the national average.
Parent-child parking statistics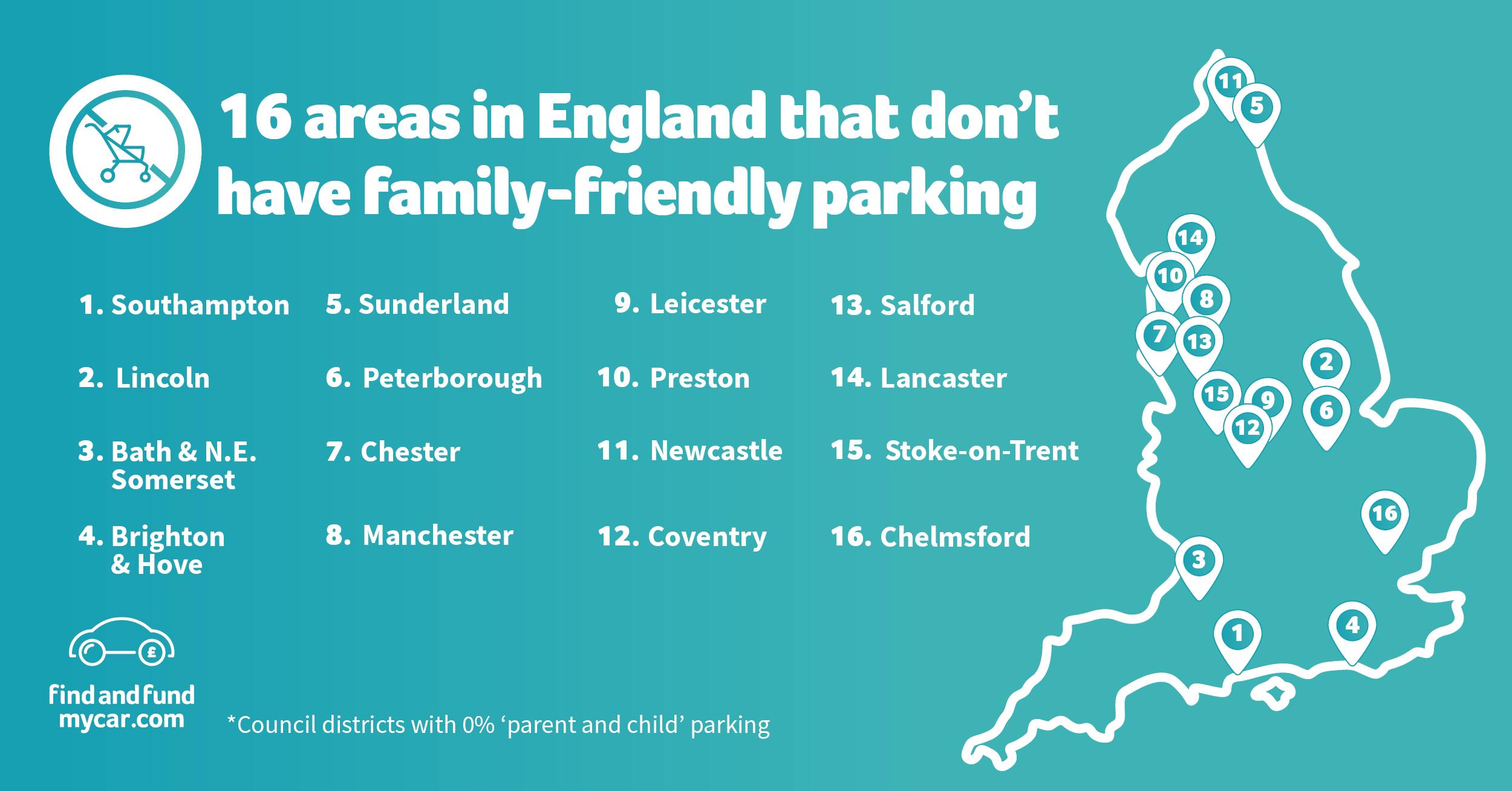 Our data shows that only 11 of the city councils contacted accommodate for families. Nottingham City Council tops the list for parent-child parking with 3.11% of its 2,763 spaces being allocated for families.
This leaves 16 councils that do not currently accommodate for parent-child parking.
Why is parking so difficult?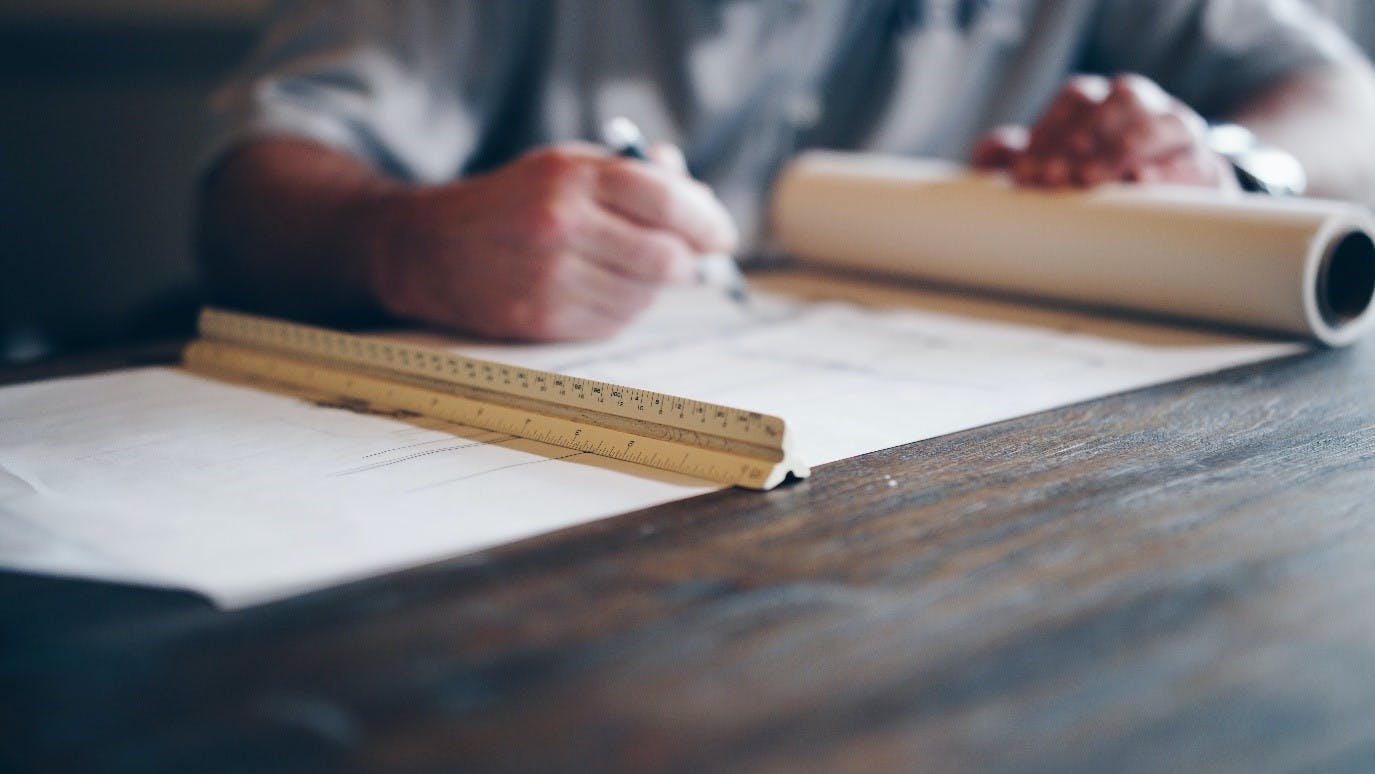 Before jumping to conclusions, it's important to consider the difficulty that arises when cities are developing new parking spaces.
The first of these challenges is demand. Some cities like London have a relatively low concentration of car ownership with there being roughly 0.3 cars per adult in the capital. This is due to many commuters preferring to use the underground to get from A to B. Subsequently, city planners may therefore wish to place less of a focus on catering for drivers.
Secondly, there is the challenge of geographical restrictions. Larger cities have more space to work with, thus allowing far more flexibility with planning new developments. Smaller cities may have to be more stringent on the way things are laid out, prioritising buildings that have a preferable impact on the city, be it economical or environmental.
The final and most universal of these challenges is funding. Building developments both large and small cost a significant amount of money. From the rental of equipment to paying contractors' wages, things can begin to add up very quickly.
Depending on its position within the financial climate, some cities may be more or less inclined to be granted funding from the UK's government. Poverty-stricken locations may be prioritised, whilst affluent areas may not require anywhere near as much money to appropriately cater for its citizens.
According to the National Audit Office, the following factors are considered when a constituency applies for funding:
 Income deprivation
Skills deprivation
Productivity (gross value added per hour worked)
Brexit exposure
Exposure to economic shocks
Investment opportunity
Alignment to wider government intervention
Driving insights from findandfundmycar.com
So, there you have it. You can use this data to help plan your next city break and hopefully avoid any surprises when looking for a parking space.
To help get you there, consider looking into a reliable used car from one of thousands of trusted dealerships located all across the UK.
If you enjoyed this post, consider reading through our previous driving insights article where we discovered every country's favourite sports car.