We've all daydreamed about zipping around open roads in a state-of-the art sports car. For many, the premium price tags associated with sports cars makes owning one a pipedream. However, the second-hand market can make it a reality. With a budget of £100,000, you can open the door to some of the finest motors around.
The best sports cars are all about fun driving. Between the powerful engines, smooth handling and eye-catching designs, getting behind the wheel of a sports car is a feeling like no other. Whether you're looking for a weekend run-around or something to brighten up the daily commute, our used sports cars are perfect for those who value the thrill of driving. 
If you're willing to sacrifice the new factor, as well as some miles on the clock, there's no need to break the bank. Here, we run through some of the best sports cars for 100k and less.
The best used sports cars under £100,000
Audi R8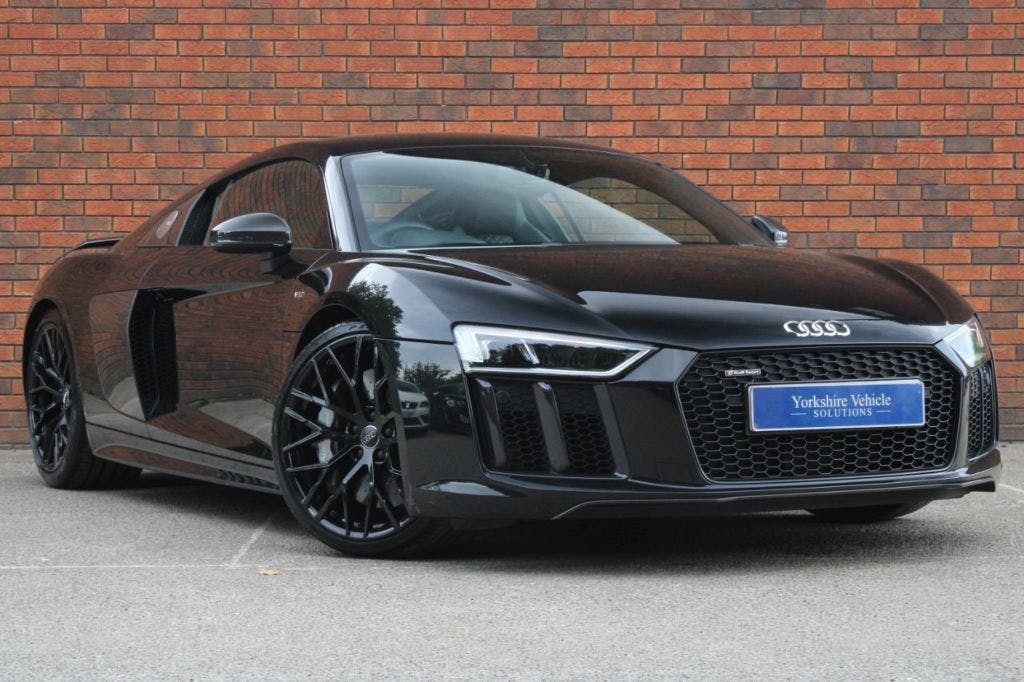 Source: Yorkshire Vehicle Solutions Harrogate Lt
Since its 2006 inception, this mid-engine Audi sports car has become one of the most iconic models on the market. Thanks to its rip-roaring V10 engine and sleek design, this high-performance motor has amassed rave reviews from car enthusiasts over the years. Boasting potent power and a hi-tech interior, it's easy to see why.
Despite its muscle, the Audi R8 has earned a reputation as an easy everyday driver, thanks to its light steering and automatic gearbox. This makes it perfect for cruising around while packing plenty of firepower for when it's needed.
Stepping inside, you're greeted by a panache interior packed with creature comforts, as well as Audi's 'Virtual Cockpit'. First seen in the TT, this feature replaces traditional dials, presenting all driving information on a configurable screen. Hitting a winning hat-trick of high performance, build quality and striking looks, a used Audi R8 represents one of the best sports cars under 100k.
Head over to our used Audi listings and find the perfect R8 for you today.
Jaguar F-Type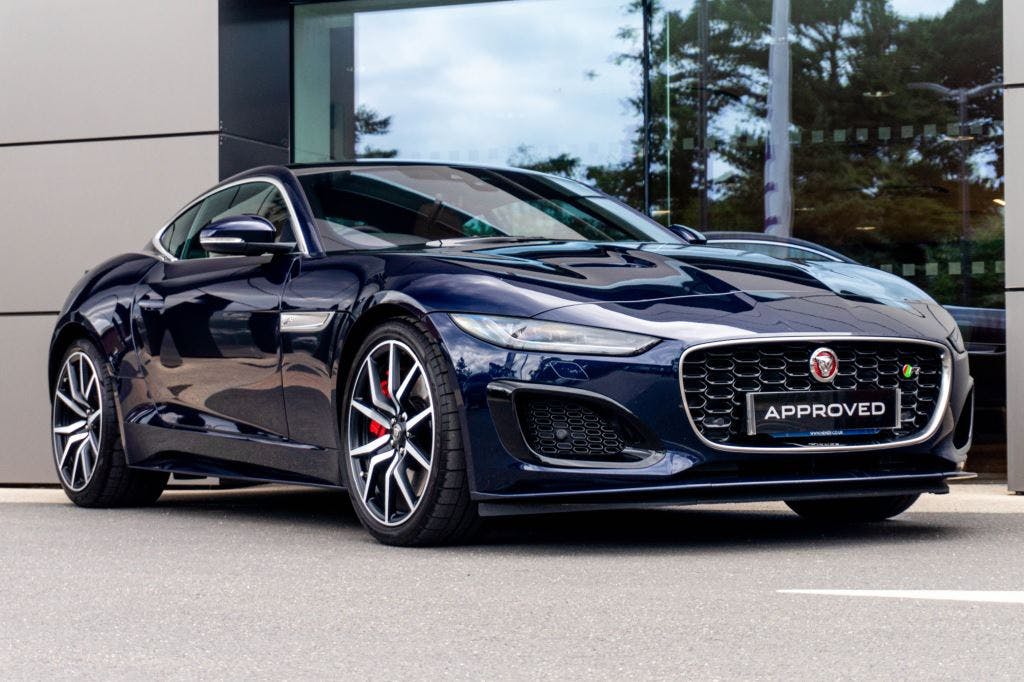 Source: Hendy - Jaguar Christchurch
When Jaguar launched the F-Type coupe in 2013, it had some pretty big shoes to fill. After all, its predecessor, the legendary E-Type, is widely regarded as one of the all-time greats. At first glance, the resemblance is clear; this is a truly stunning sports car that's been heralded as one of the best-looking vehicles around. More than a pretty face, however, the latest branch on this family tree has much more to offer.
The thunderous Jaguar F-Type has crisp steering, excellent handling and a robust chassis to match its notable performance. Under the hood, its V8 engine offers plenty of bite. With 50:50 weight distribution and variable rear or four-wheel drive options, this is an agile car that keeps you on your toes and never feels a chore to drive.
If the F-Type has got your motors racing, check out our used Jaguar listings.
Porsche 911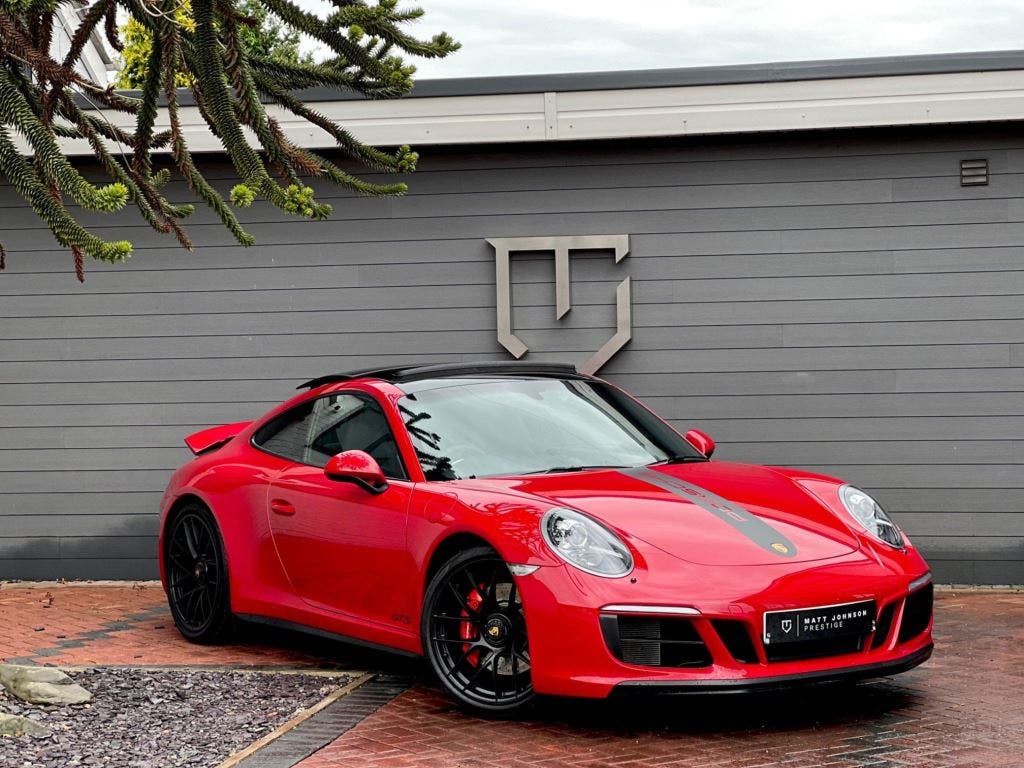 Source: Matt Johnson Prestige Ltd
No list of the best sports cars would be complete without this classic Porsche. The iconic 911 is sports car royalty, backed by almost 70 years of heritage. While it's gone through its fair share of facelifts in that time, its mission statement of everyday comfort coupled with a rewarding drive has remained the same.
Known for its distinctive design and first-class performance, the Porsche 911 remains one of the most popular sports cars around. Available in a variety of different body styles, including coupes, cabriolets and convertibles, each variation is reliable and suitable for daily driving.
A budget of 100k can go a long way when it comes to the Porsche 911. Buyers will usually have to sacrifice a little on age and mileage, but with £100,000 you still get your hands on a mid-top line model with features such as a six cylinder twin-turbo engine, high level interior comfort and driver-assistance technology. For a unique driving experience and a slice of sports car heritage, a used Porsche 911 is the way to go.
Lexus LC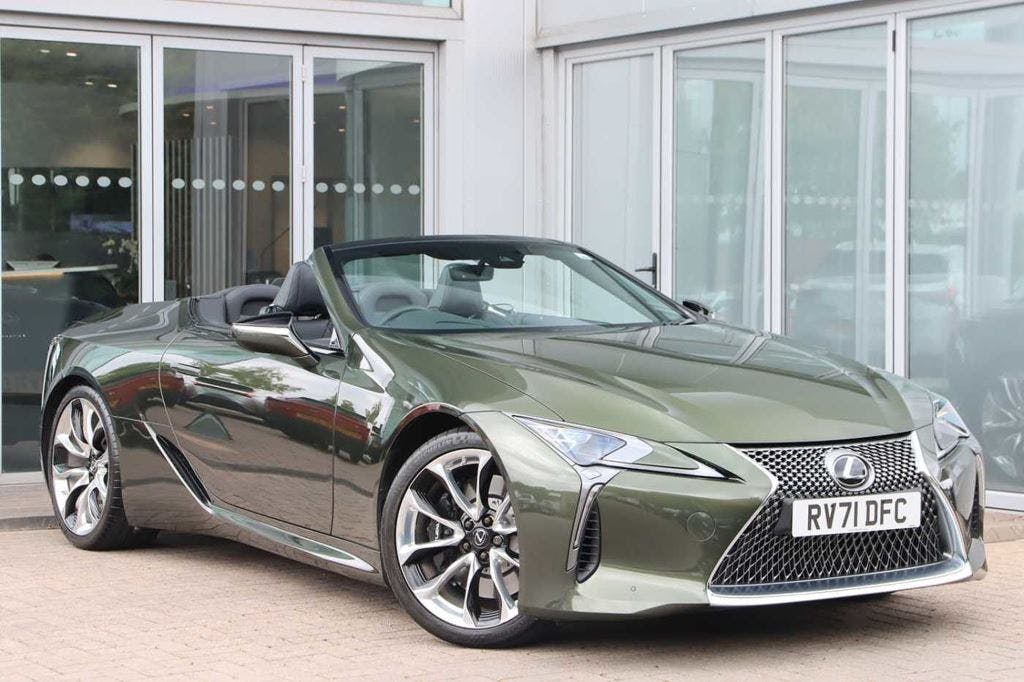 Source: Fish Brothers Lexus
This luxury Lexus performance coupe is a work of automotive art. From its feature-rich interior to its rowdy engine, the LC is ideal for those looking for an exhilarating driving experience. Powered by a 5.0 litre V8 engine, the LC delivers ample power and torque, making it capable of accelerating from 0-60 in just 4.4 seconds.
What really makes this Lexus sports car stand out is its design. Its unmistakably elegant curves give it a look which is both sophisticated and sporty. It's not the roomiest, however, with its rear seat better suited to baggage than passengers. Nimble handling and interior craftmanship more than make up for this, though, offering a scintillating drive.
Has the Lexus LC caught your eye?
Ford Mustang Shelby GT350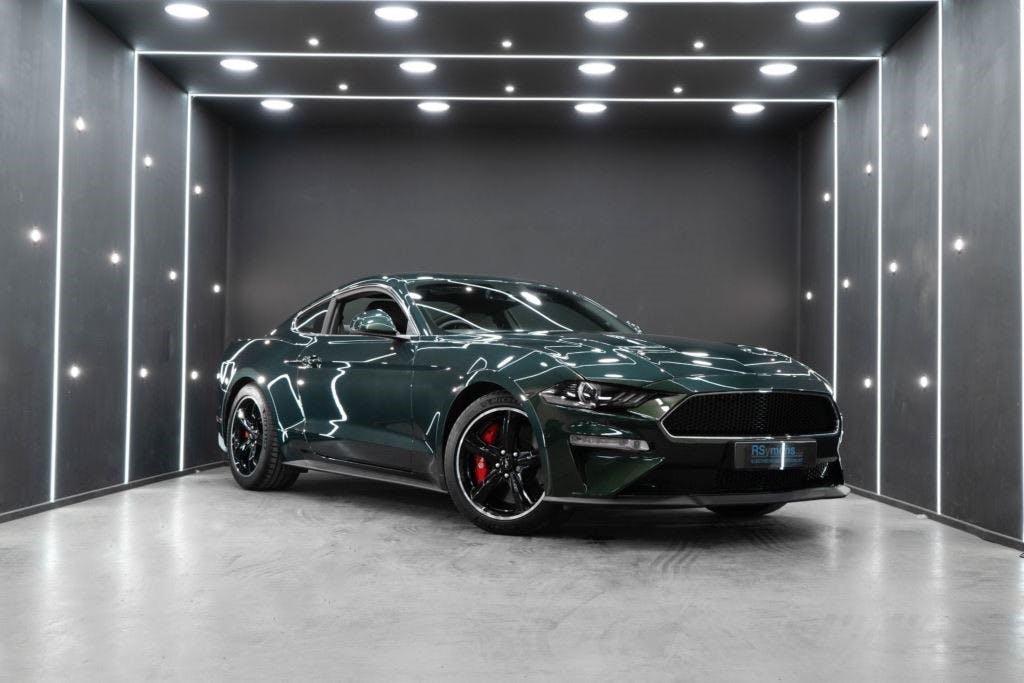 Source: R Symons Ltd - RBP
The baby sibling of the GT500, the Mustang Shelby GT350 is perfect for a sports car purist. Ranking among the fastest cars under 100k, this Ford supercar has a naturally-aspirated flat-crank V8 engine which redlines at a mammoth 8,250rpm. Don't be fooled by its breakneck power, though; this Mustang is deceptively nimble, handling just as well during everyday driving as it does on racetracks.
The rich Mustang heritage comes shrieking to life through its roaring engine and razor-sharp handling. Much like its namesake, former racing driver and automotive designer Caroll Shelby, the GT350 is all about high performance. With its purring high rev engine and undeniably sporty style, this is a high-strung muscle car that's also easy on the eye.
Take home this track-ready Ford Mustang motor today and browse our used sports cars.
BMW M4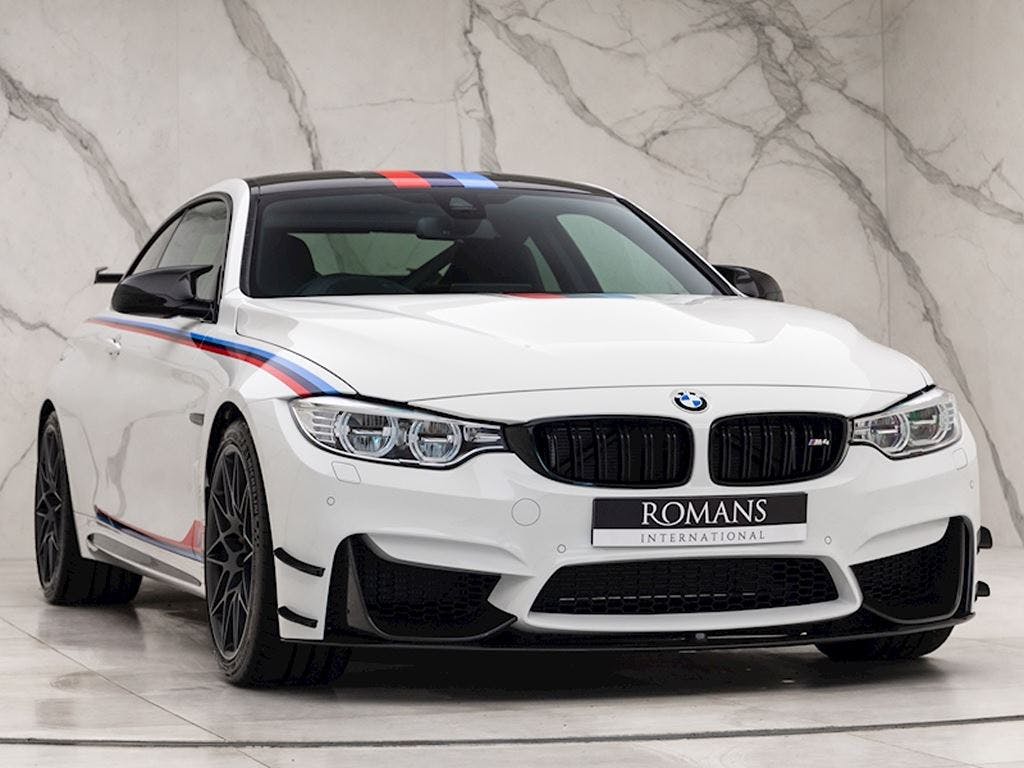 Source: Romans International Ltd
Building on the success of the M3 coupe, this BMW is a faster, lighter and more powerful sequel. Boasting blistering acceleration and everyday practicality, the M4 has a twin-turbocharged six-cylinder engine, eight-speed automatic gearbox and 10-stage traction control system. Suffice to say, this is a tantalisingly advanced sports car with a lot to offer.
Aesthetically, the BMW M4 has been somewhat divisive among enthusiasts. Its snarling kidney grille has been both loved and hated in equal measure. Whichever side of the fence you sit on, however, there's no division when it comes to performance. Brutal when it needs to be, the versatile motor can effortlessly switch to a delicate cruiser thanks to its variable settings. With ample boot space and enhanced legroom for passengers, the BMW M4 is equal parts practical and exciting.
Looking for a sports car with German engineering? Browse our used BMW listings today.
Lotus Evora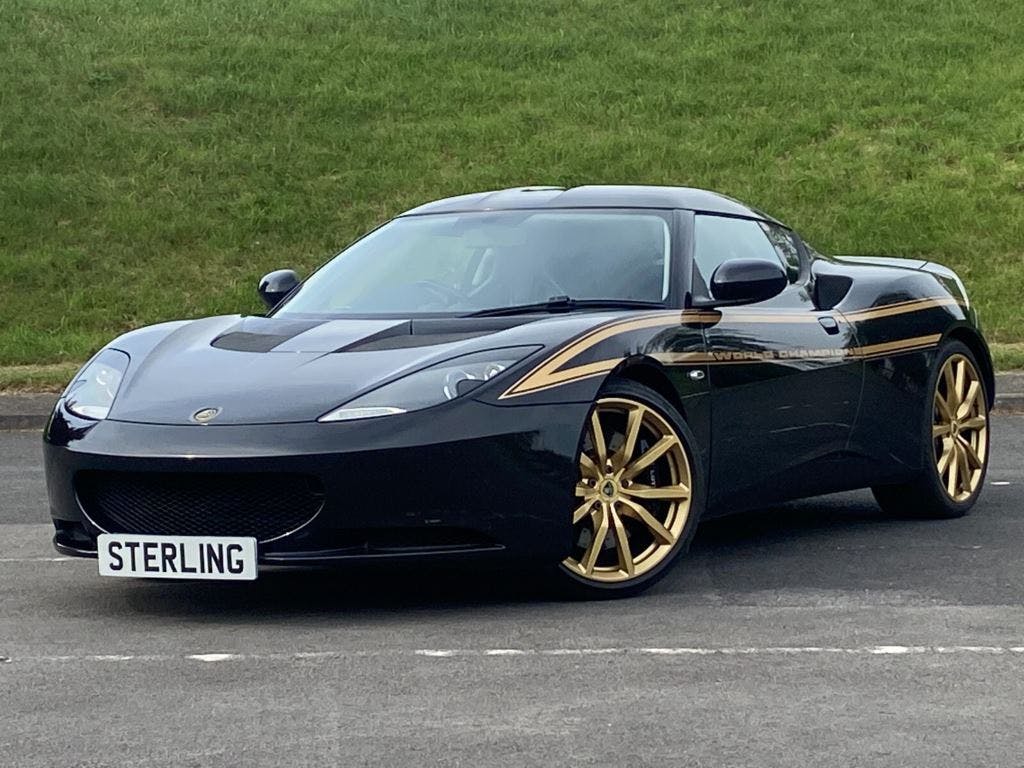 Source: Sterling Finance
If you're after something a little out of the ordinary, a Lotus Evora fits the bill. Both reliable and fun to whizz around in, the British-made sports car is seldom seen on the road and certain to turn heads.
This unique motor is powered by a 3.5L supercharged V6 engine. Thanks to its low centre of gravity and mid-engine layout, the Evora is also in a class of its own when it comes to handling around corners.
Far from a pricey collector's item, the Lotus Evora can be frequently found on the used market for £100k and less. Whether you're looking for a stylish daily driver or a track-worthy performer, the Lotus Evora is among the best sports cars under £100,000. 
Hit the asphalt in this unique sports car by browsing our used Lotus listings.
Pick up a used sports car today
If you're looking for a sports car that's high-performing we've got you covered. From cars with power and personality to flashy and fast models, there's something for everyone in our list.
Your dream sports car is just a click away. Browse finadandfundymycar.com today and see the latest used cars from our trusted dealers.