Road trips can only mean one thing: road trip playlists. Many songs have become synonymous with exciting journeys and staycations, but which songs are the most popular? Who is the road trip artist? Which song do drivers and passengers love singing the most?
At findandfundmycar.com, we've done the research so we can finally put these questions to bed. By analysing 10,000 songs featured on Spotify playlists with 'road trip' or 'driving' in the playlist, we've found the world's favourite road trip song, artist and album, which you can find below.
Even if you've heard of most of these artists, you could find your new go-to track next time you're on the open road.
The top ten road trip songs
So, what are our favourite road trip songs? Check out the top ten below:
The top ten songs to be featured in road trip playlists are: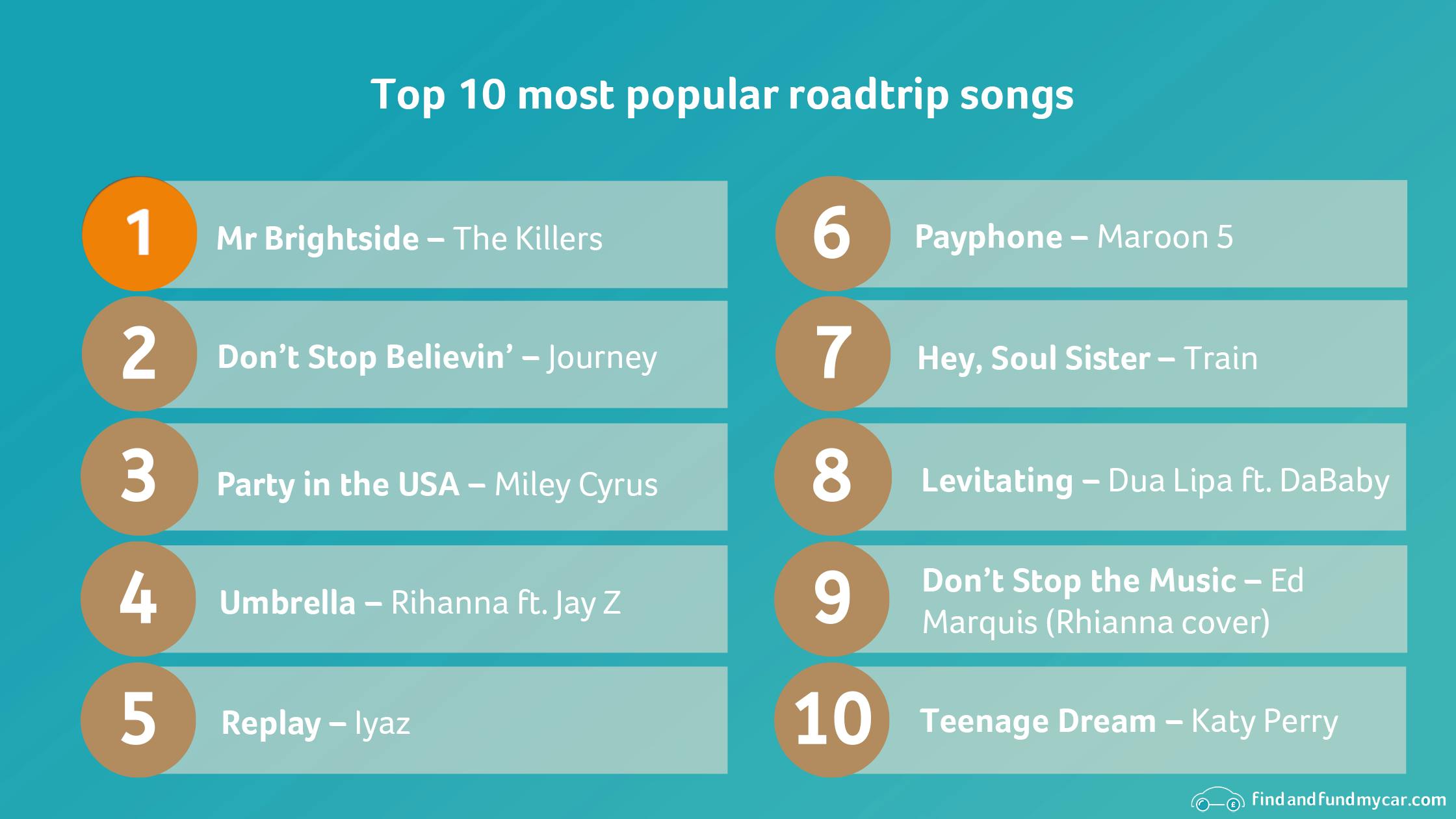 Mr. Brightside – The Killers
Don't Stop Believin' – Journey
Party in the USA – Miley Cyrus
Umbrella – Rihanna Ft. Jay Z
Replay – Iyaz
Payphone – Maroon 5
Hey, Soul Sister – Train
Levitating – Dua Lipa Ft. DaBaby
Don't Stop the Music – Ed Marquis (Rihanna cover)
Teenage Dream – Katy Perry
Most of these songs may not be themed around road trips, but what they have in common is that they're karaoke and singalong favourites. So it's easy to see why they're so popular.
What about artists, though?
Despite taking the number one spot on most played songs, The Killers are just the 62nd most popular artist on people's road trip playlists.
So, while they may take the song crown, who is the artist most of us turn to when we need some good vibes on the road?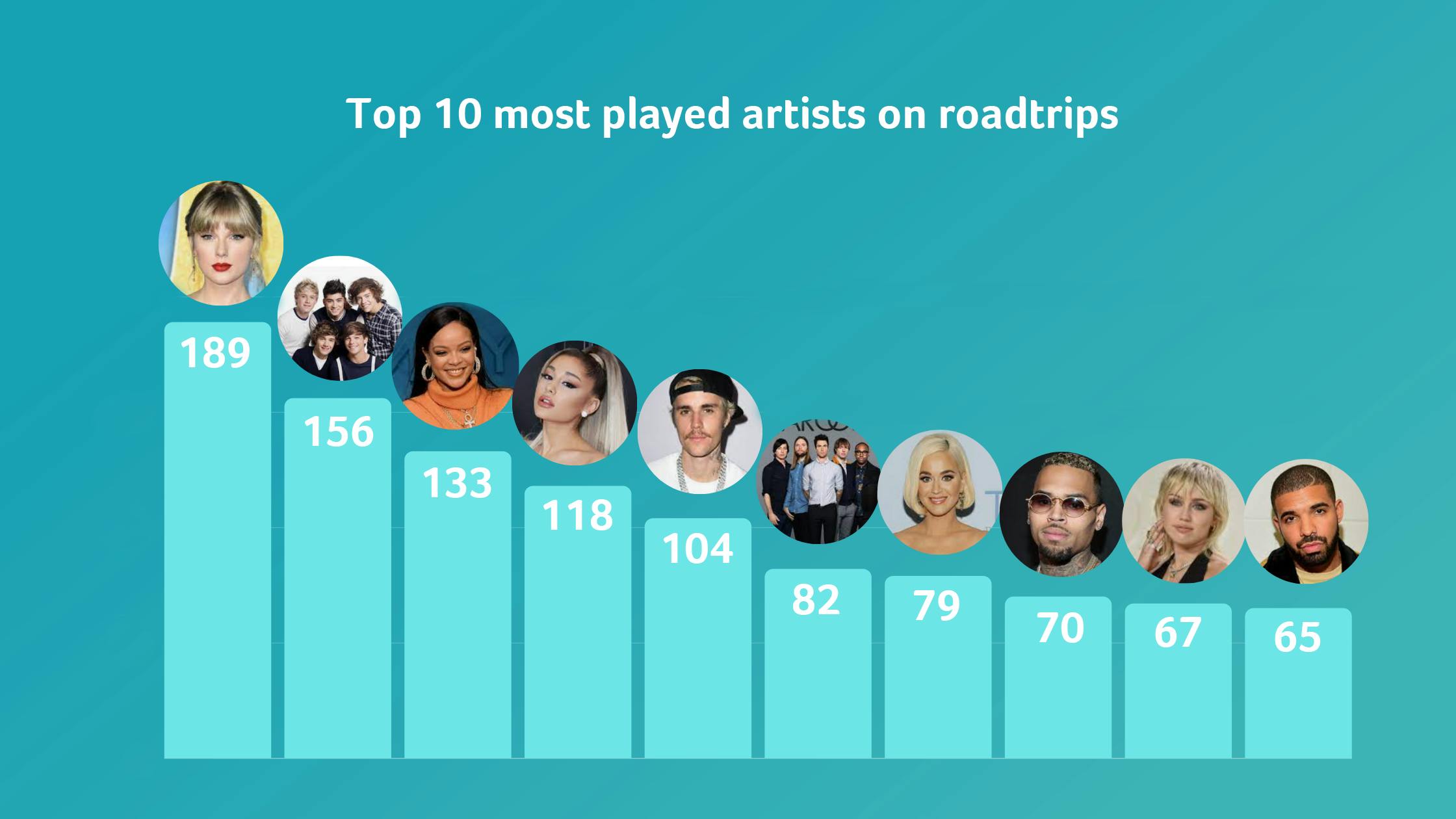 Perhaps unsurprisingly, Taylor Swift tops the list, with One Direction shortly behind. The biggest shock – for us, anyway – is the lack of more classic or rock'n'roll artists on the playlist, with drivers generally preferring pop music.
The best road trip albums
As for albums, two One Direction albums featured in the top 10, as well as two Ariana Grande albums. Taking home the number one spot for most featured album is One Direction's Midnight Memories, which includes songs such as Best Song Ever and Story of my Life.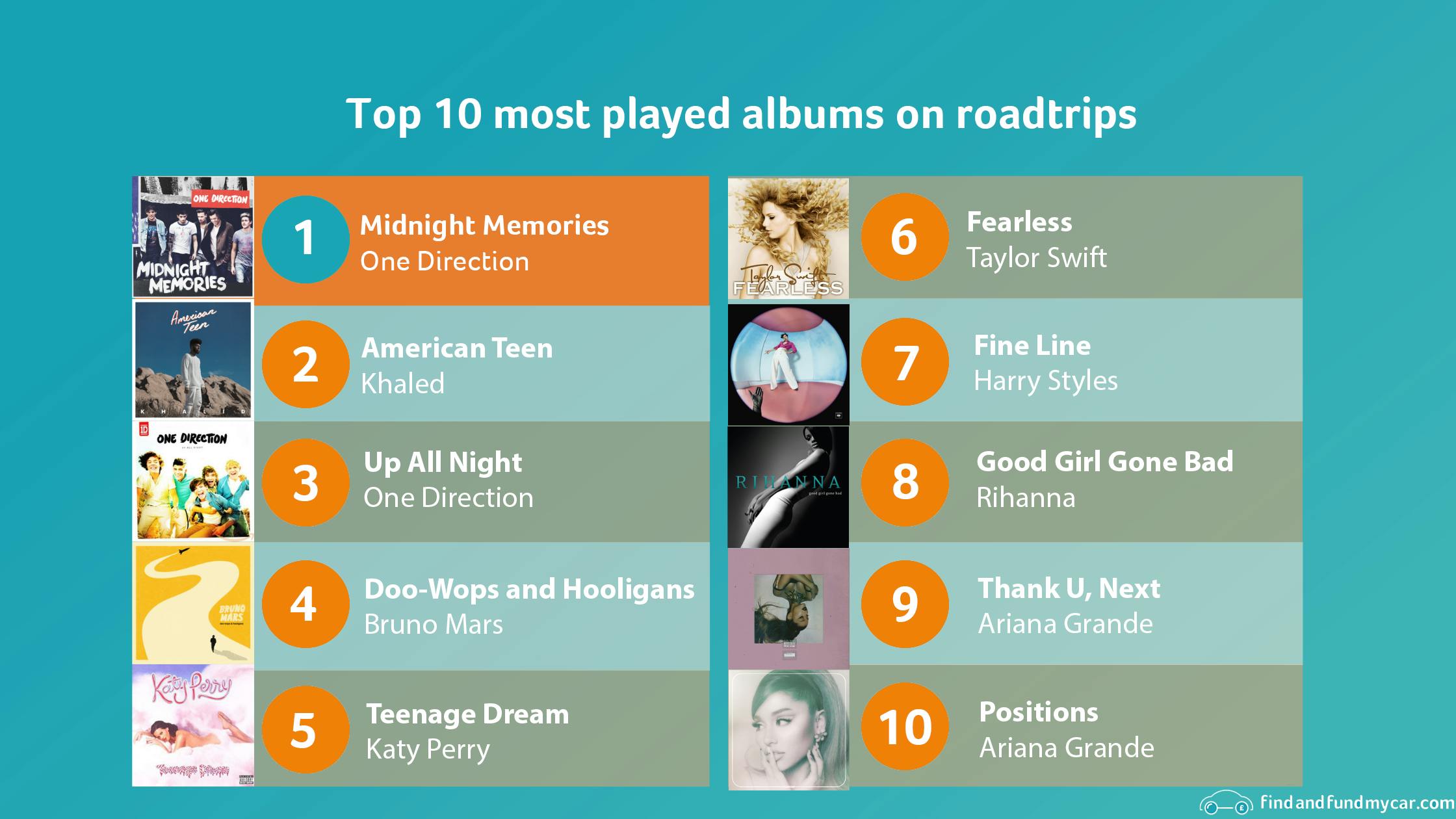 Summer 2021: The season of road trips and staycations?
A recent survey by findandfundmycar.com revealed that 54% of Brits are planning more staycations and road trips in 2021 compared to previous years. So, this means we could all be listening to road trip playlists more than usual this summer.
In response, Phil Morgan, Head of findandfundmycar.com, says:
"With more staycations and road trips being planned for this year than previous years, families, couples and groups of friends are going to want to prepare their music for the long journeys well  before they start travelling. We've put together the top 200 most played songs into a playlist so that roadtrippers have a good mix between old and new, and songs that are bound to make hours of travel more fun!"
To get ready for your next road trip and make sure your car is in top condition, read our blog post Staycation: How to Prepare Your Car For a Road Trip.
Of course, if you want a fancy set of new wheels to take you on holiday, or perhaps a second car just for long-haul road trips, you can always browse our full range of excellent value used cars today.
Methodology
To attain this data, findandfundmycar.com analysed over 10,000 songs from Spotify data. We looked at playlists tagged with "road trip", "driving" and similar terms, then tallied the frequency of each song, album and artist.